Prevalence and social, demographic and environmental factors associated with leisure time and commuting physical activity in adults
Abstract
The objective of this study was to analyze the prevalence the sociodemographic and environmental factors associated with physical activity during leisure time physical activity (LTPA) and commuting physical activity (CPA). A cross-sectional research design with 460 adults from 20-79 years of age, 300 (65.2%) women was carried out. LTPA and CPA were assessed with the IPAQ - long version. The associations were analyzed with logistic regression, estimating the odds ratio (OR) with a confidence interval of 95%. The prevalence of individuals active in leisure time was 20.4% and 27.2% of the transportation. After multivariate analysis, the LTPA was positively associated with male, middle and high school, middle socioeconomic status, marital status divorced and possibility of using public space for physical activity, and, inversely with perceived insecurity/violence in neighborhood. The CPA was inversely associated with and age higher than 60 years and positively to the marital status single and divorced as well as, the possibility of using public space for physical activity. Sociodemographic and environmental factors, mainly sex, age, marital status, socioeconomic status, education, possible use of public space for physical activity and perception of insecurity / violence in the neighborhood were associated with LTPA and CPA in adults.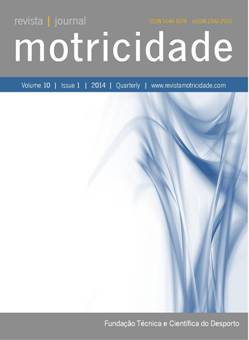 Downloads
License
The authors of submitted manuscripts must transfer the full copyright to Journal Motricidade / Desafio Singular Editions. Granting copyright permission allows the publication and dissemination of the article in printed or electronic formats and copyrights start at the moment the manuscript is accepted for publication. It also allows Journal Motricidade to use and commercialize the article in terms of licensing, lending or selling its content to indexation/abstracts databases and other entities.
According to the terms of the Creative Commons licence, authors may reproduce a reasonable number of copies for personal or professional purpose but without any economic gains. SHERPA/RoMEO allows authors to post a final digital copy (post-printing version) of the article in their websites or on their institutions' scientific repository.