Relação entre a posse de bola e o resultado de partidas da UEFA Champions League
Abstract
This study aimed to verify the relationship between ball possession and match outcome in the UEFA Champions League. Official statistics from five seasons were analyzed, and descriptive analysis and the Chi-Square test were used for statistical analysis (p<0.05). Overall, teams with more ball possession won 49.2%, draw 22.0%, and lost 28.7% of the matches. In the group phase, teams with more ball possession won 50.5%, draw 23.0%, and lost 26.5% of the matches, while in the knockout phase, teams with more ball possession won 45.1%, draw 19.0%, and lost 35.9% of the matches. In general, teams with more ball possession won more matches in the competition, and this was especially true when the range of ball possession percentage between two teams in a match was higher.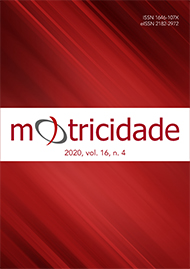 Downloads
License
The authors of submitted manuscripts must transfer the full copyright to Journal Motricidade / Desafio Singular Editions. Granting copyright permission allows the publication and dissemination of the article in printed or electronic formats and copyrights start at the moment the manuscript is accepted for publication. It also allows Journal Motricidade to use and commercialize the article in terms of licensing, lending or selling its content to indexation/abstracts databases and other entities.
According to the terms of the Creative Commons licence, authors may reproduce a reasonable number of copies for personal or professional purpose but without any economic gains. SHERPA/RoMEO allows authors to post a final digital copy (post-printing version) of the article in their websites or on their institutions' scientific repository.