Reasons for practicing paralympic athletics in adults with physical disabilities
Keywords:
Motivation, Self-determination, Sport Psychology, Physical Disability, Para-athletics
Abstract
This study aimed to compare and correlate the reasons for adherence to the practice of paralympic athleticsin adults with physical disabilities. Twenty-seven adults participated in the study (34.93± 8.51 years). All were assessed using the exercise motivation questionnaire (EMI-2). The sample was subdivided into two groups of aetiology of disability (congenital, CD, N= 17; and acquired, AD, N= 10). Data were correlated by Pearson's correlation coefficient and compared by a multivariate analysis of covariance. Fun/well-being, disease prevention and competition (means= 4.76; 4.48; 4.47; respectively). For the CD group, the most frequent reasons were competition, fun/well-being and disease prevention (means= 4.66; 4.63; 4.49, respectively). In the AD group, disease prevention, health/well-being and physical condition (means = 4.45; 4.45; 4.40; respectively) were the most frequent. Significant correlations were observed between social recognition and time of disability (r= .406; p< .05) and between disease prevention and age (r= .403; p< .05). Multivariate analysis revealed that social recognition (p= .006) and competition (p= .043) are presented differently between the AD and CD groups. However, when considering the covariate age, stress control (p= .016) and physical condition (p= .015) showed significant differences between the evaluated groups. It was concluded that from an absolute point of view, aspects related to health, well-being and competition seem to arouse more motivation for the practice of paralympic athletics. However, age and the aetiology of the disability must be considered as factors that can modulate adapted athletics participation reasons.
Keywords: Motivation; Self-determination; Sport Psychology; Physical Disability; Para-athletics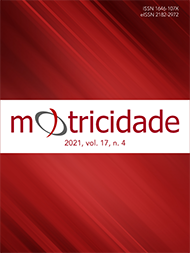 Downloads
License
The authors of submitted manuscripts must transfer the full copyright to Journal Motricidade / Desafio Singular Editions. Granting copyright permission allows the publication and dissemination of the article in printed or electronic formats and copyrights start at the moment the manuscript is accepted for publication. It also allows Journal Motricidade to use and commercialize the article in terms of licensing, lending or selling its content to indexation/abstracts databases and other entities.
According to the terms of the Creative Commons licence, authors may reproduce a reasonable number of copies for personal or professional purpose but without any economic gains. SHERPA/RoMEO allows authors to post a final digital copy (post-printing version) of the article in their websites or on their institutions' scientific repository.