Predictive role of coping on athletes
Keywords:
Football, Stress, Anxiety, Copping
Abstract
This study investigated the relationship between coping strategies on stress and anxiety symptoms in under-20 soccer players. Twenty-three athletes from four teams from the 2019 Bahia Under-20 Championship participated. The Athletic Coping Strategy Inventory, the Daily Analysis of Life Demands in Athletes and the Competitive State Anxiety Inventory-2R were used. Data analysis was conducted using Pearson's correlation analysis and Multiple Linear Regression (p< 0.05). The results indicated that coping was related to anxiety at the beginning of the season (Cognitive, R2= 0.43; Self-confidence, R2= 0.30; p< 0.05). While, at the end of the season, with stress (R2= 0.18; p< 0.05), Anxiety (AC, R2= 0.66; p< 0.05). It is concluded that, at the end of the epoch, the magnitude of coping relationships on stress and anxiety were enhanced in young football players in the Under-20 category.
Keywords: Football, Stress, Anxiety, Copping.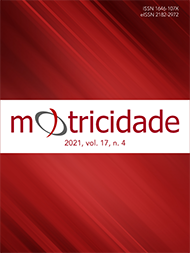 Downloads
License
The authors of submitted manuscripts must transfer the full copyright to Journal Motricidade / Desafio Singular Editions. Granting copyright permission allows the publication and dissemination of the article in printed or electronic formats and copyrights start at the moment the manuscript is accepted for publication. It also allows Journal Motricidade to use and commercialize the article in terms of licensing, lending or selling its content to indexation/abstracts databases and other entities.
According to the terms of the Creative Commons licence, authors may reproduce a reasonable number of copies for personal or professional purpose but without any economic gains. SHERPA/RoMEO allows authors to post a final digital copy (post-printing version) of the article in their websites or on their institutions' scientific repository.