12 Weeks of progressive resistance training on postural balance and concerns about falling in older adults: randomized controlled trial
Keywords:
Exercise, postural sway, falls, fear of falling, elderly
Abstract
This study aimed to analyze the effects of 12 weeks of a progressive resistance training (PRT) intervention on postural balance and concerns about falling in older adults. This study is a randomized controlled trial. Fifty men and women, community-dwelling older adults (aged 60 and older), were randomly assigned to a PRT (n= 25) or control group (n= 25). Participants allocated to the PRT performed a supervised RT program for 12-weeks (three times per week; three sets of 10-15 repetition maximum of nine wholebody exercises). Control group participants did not perform any structured exercise. Outcomes were obtained at baseline and follow-up and included postural balance assessment using the centre of pressure (CoP) variables. Concerns about falling and leg extension muscle strength were also evaluated using the falls efficacy scale international (FESI) and 1-RM, respectively. At the end of the intervention, PRT did not improve anteroposterior and mediolateral amplitude and velocity, and total velocity and area of CoP in any condition (bipodal, with eyes open and closed — p> 0.05 for all) or concerns about falling (mean difference: +1 point; 95%CI -2; +5). Conversely, compared with the control group, participants in the PRT demonstrated muscle strength gains in the leg extension exercise (+19 kg; 95%CI +3; +35) after the intervention. In summary, 12-weeks of PRT did not improve postural balance or concerns about falling in healthy older adults.
Keywords: exercise; postural sway; falls; fear of falling; elderly.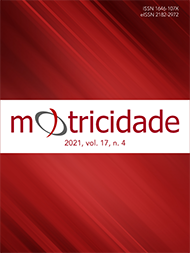 Downloads
License
The authors of submitted manuscripts must transfer the full copyright to Journal Motricidade / Desafio Singular Editions. Granting copyright permission allows the publication and dissemination of the article in printed or electronic formats and copyrights start at the moment the manuscript is accepted for publication. It also allows Journal Motricidade to use and commercialize the article in terms of licensing, lending or selling its content to indexation/abstracts databases and other entities.
According to the terms of the Creative Commons licence, authors may reproduce a reasonable number of copies for personal or professional purpose but without any economic gains. SHERPA/RoMEO allows authors to post a final digital copy (post-printing version) of the article in their websites or on their institutions' scientific repository.