Music, rhythmic gymnastics and expressiveness: an artistic performance
Keywords:
Rhythmic Gymnastics, Music, Integration, Artistic Performance
Abstract
In rhythmic gymnastics, we appreciate the brilliant success in a true performing art whose sensitively expressive movements of great technical skill integrated into the music result in an exquisite and refined performance that involves body plasticity, musical receptivity, feelings and emotions. The practice of gymnastics significantly contributes to the development of body movements and musicality, boosting motor and artistic abilities by the acquisition of improved skills for jumping, running and practising different exercises. This study aimed to investigate how music is important in the development of rhythmic gymnastics. A literature review was carried out, including research from 2016 to 2021, published in Google Academic. We emphasise how the body action perfectly integrated into the music is essential for the artistic representation of an enchanting plastic, musical and grandiose beauty. We understand that encouraging physical exercise, especially artistic rhythmic gymnastics, is very important for the development of essential qualities for the individual, such as physical, behavioural, artistic and emotional attributes.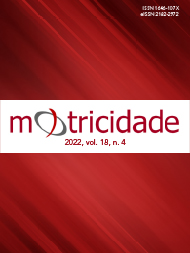 Downloads
License
The authors of submitted manuscripts must transfer the full copyright to Journal Motricidade / Desafio Singular Editions. Granting copyright permission allows the publication and dissemination of the article in printed or electronic formats and copyrights start at the moment the manuscript is accepted for publication. It also allows Journal Motricidade to use and commercialize the article in terms of licensing, lending or selling its content to indexation/abstracts databases and other entities.
According to the terms of the Creative Commons licence, authors may reproduce a reasonable number of copies for personal or professional purpose but without any economic gains. SHERPA/RoMEO allows authors to post a final digital copy (post-printing version) of the article in their websites or on their institutions' scientific repository.