Effects of aerobic exercise program on physical activity levels in hemodialysis patients
Abstract
The purpose of this study was to evaluate the effectiveness of an exercise program on changes in physical activity (PA) levels of hemodialysis patients. The sample consisted of 24 hemodialysis patients, 45.8% of female subjects, with an average age of 75.1 ± 11.8 years, were subjected to an aerobic exercise program intradialytic 3 times per week over 8 weeks. The training load was individualized with progressive increase through the self-perception effort. Accelerometers were used for the evaluation of PA during a continuous week, before and after the implementation of the program. The results suggested that PA mainly performed in both moments of evaluation was light intensity, on the other hand, the moderate and vigorous PA together constituted less than 1% of total PA performed. The time spent in light PA increased significantly between the pre and post-test (p= 0.03), while the time spent in sedentary activities, moderate PA and vigorous PA did not change significantly. In conclusion, light PA significantly increased between the pre and post-test. There were not significant changes in sedentary time, in moderate and vigorous PA.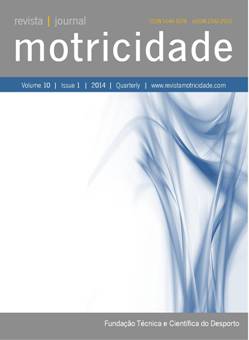 Downloads
License
The authors of submitted manuscripts must transfer the full copyright to Journal Motricidade / Desafio Singular Editions. Granting copyright permission allows the publication and dissemination of the article in printed or electronic formats and copyrights start at the moment the manuscript is accepted for publication. It also allows Journal Motricidade to use and commercialize the article in terms of licensing, lending or selling its content to indexation/abstracts databases and other entities.
According to the terms of the Creative Commons licence, authors may reproduce a reasonable number of copies for personal or professional purpose but without any economic gains. SHERPA/RoMEO allows authors to post a final digital copy (post-printing version) of the article in their websites or on their institutions' scientific repository.