Efeito do exercício prévio severo nos parâmetros da relação potência - tempo em indivíduos ativos no ciclismo
Abstract
O objetivo deste estudo foi analisar o efeito do exercício prévio severo (EPS) sobre a potência crítica (PC) e a capacidade de trabalho anaeróbio (CTA) determinados durante o exercício de ciclismo. Sete indivíduos realizaram os seguintes protocolos em cicloergômetro: (a) teste progressivo para determinação do limiar ventilatório (LV), consumo máximo de oxigênio (VO2max) e sua respetiva intensidade (IVO2max); (b) seis testes de carga constante em ordem aleatória, com (EPS) e sem (CON) a realização de EPS. O EPS foi realizado durante 6 min a 70%D (i.e., 70% da diferença entre o LV e a IVO2max). A PC na condição CON (199.71 ± 27.08 W) não foi significativamente diferente da condição EPS (211.71 ± 29.92 W). Do mesmo modo, a CTA não foi significativamente diferente entre as condições (CON = 23.46 ± 10.76 kJ vs. EPS = 17.51 ± 8.44 kJ). Portanto, o exercício prévio severo (70%D) seguido por 6 min. de recuperação não influencia a determinação da PC e da CTA em indivíduos ativos.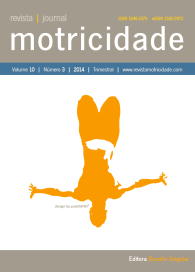 Downloads
License
The authors of submitted manuscripts must transfer the full copyright to Journal Motricidade / Desafio Singular Editions. Granting copyright permission allows the publication and dissemination of the article in printed or electronic formats and copyrights start at the moment the manuscript is accepted for publication. It also allows Journal Motricidade to use and commercialize the article in terms of licensing, lending or selling its content to indexation/abstracts databases and other entities.
According to the terms of the Creative Commons licence, authors may reproduce a reasonable number of copies for personal or professional purpose but without any economic gains. SHERPA/RoMEO allows authors to post a final digital copy (post-printing version) of the article in their websites or on their institutions' scientific repository.