Motivos para prática de esporte em idades jovens: Um estudo de revisão
Abstract
O objetivo do estudo foi realizar uma revisão da literatura sobre motivos para prática de esporte em idades jovens. A busca de publicações foi re­alizada nas bases de dados Embase, Medline, PsycINFO e SPORTDiscus, considerando artigos publicados entre 1980 e 2013 nos idiomas português, inglês e espanhol. Na estratégia de busca foram utilizados os descritores "motivo", "motivação", "adesão", "esporte" e "treino" com os limites da pesquisa "criança", "adolescente" e "jovem". Também foram realizadas buscas manuais nas referências dos artigos selecionados. A busca bibliográfica resultou na localização de aproximadamente oito mil artigos. Contudo, 26 preencheram os critérios para compor a revisão. Os resultados demonstraram que os motivos para a prática de esporte em jovens-atletas resultam da interação entre diversos fatores individuais, sociais e ambientais. Os estudos selecionados para analise, em sua maioria, identificaram principalmente motivos vinculados à auto-realização associada ao domínio/aperfeiçoamento de habilidades esportivas, em que a Competência Técnica foi o fator mais apontado pelos jovens-atletas de ambos os sexos inseridos nos diferentes contextos socioculturais.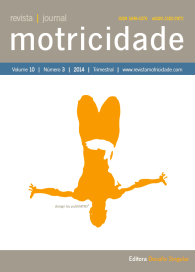 Downloads
License
The authors of submitted manuscripts must transfer the full copyright to Journal Motricidade / Desafio Singular Editions. Granting copyright permission allows the publication and dissemination of the article in printed or electronic formats and copyrights start at the moment the manuscript is accepted for publication. It also allows Journal Motricidade to use and commercialize the article in terms of licensing, lending or selling its content to indexation/abstracts databases and other entities.
According to the terms of the Creative Commons licence, authors may reproduce a reasonable number of copies for personal or professional purpose but without any economic gains. SHERPA/RoMEO allows authors to post a final digital copy (post-printing version) of the article in their websites or on their institutions' scientific repository.