The role of motivation and metacognition on the development of cognitive and affective responses in physical education les-sons: A self-determination approach
Abstract
The study investigated the role of motivation and metacognition in the formation of cognitive and affective outcomes from participation in physical education lessons within the framework of self-determination theory. A sample of 630 adolescents (M age = 14.06, SD = .29) participated in the study. Participants completed questionnaires including measures of perceived autonomy support in PE, autonomous motivation in PE, metacognitive processes in PE, enjoyment, boredom in PE and intention for leisure-time physical activity. Multiple linear regression analyses revealed that perceptions of autonomy supportive motivational climate significantly predicted enjoyment, boredom and intentions towards leisure-time physical activity. In addition autonomous motivation and metacognition significantly predicted enjoyment, boredom and intentions, whereas controlling motivation was a significant predictor of boredom. Multiple mediation modeling indicated that perceptions of autonomy supporting climate on these responses was mediated mainly by autonomous motivation and metacognition. The findings of the present study provide valuable information on the mediating role of autonomous motivation and metacognition on the effects of autonomy supportive motivational climate on students' cognitive and affective responses during physical education lessons.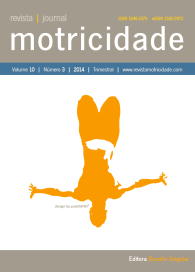 Downloads
License
The authors of submitted manuscripts must transfer the full copyright to Journal Motricidade / Desafio Singular Editions. Granting copyright permission allows the publication and dissemination of the article in printed or electronic formats and copyrights start at the moment the manuscript is accepted for publication. It also allows Journal Motricidade to use and commercialize the article in terms of licensing, lending or selling its content to indexation/abstracts databases and other entities.
According to the terms of the Creative Commons licence, authors may reproduce a reasonable number of copies for personal or professional purpose but without any economic gains. SHERPA/RoMEO allows authors to post a final digital copy (post-printing version) of the article in their websites or on their institutions' scientific repository.