Insatisfação com a imagem corporal em adolescentes do sexo feminino de uma cidade de pequeno porte: prevalência e correlações
Abstract
Este estudo buscou identificar a prevalência e os fatores associados à insatisfação com a imagem corporal em adolescentes de uma cidade de pequeno porte. Participaram da pesquisa 144 estudantes do sexo feminino (nove a 20 anos) da cidade de São Bonifácio/SC. Foram obtidos dados referentes às variáveis idade, zona de domicílio, renda familiar mensal e tempo de TV durante a semana e no final de semana. Utilizou-se o BSQ e o EAT-26 para a avaliação da imagem corporal e do risco para transtornos alimentares. O percentual de gordura foi obtido por meio de medidas de dobras cutâneas. A avaliação da maturação sexual foi realizada por meio dos estágios de desenvolvimento de pelos pubianos e mamas e ocorrência da menarca. Aplicou-se a análise de regressão logística (p < 0.05). A prevalência de insatisfação com a imagem corporal foi de 26.4%. As adolescentes com risco de transtornos alimentares apresentaram 7,15 vezes mais chance (RC = 7.15; IC95% = 2.67-19.17; p = 0,0001) de estarem insatisfeitas. Destaca-se a importância do planejamento e implementação de estratégias nas escolas que visem promover uma maior satisfação corporal na adolescência feminina a fim de prevenir transtornos alimentares nesta população.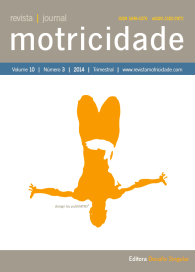 Downloads
License
The authors of submitted manuscripts must transfer the full copyright to Journal Motricidade / Desafio Singular Editions. Granting copyright permission allows the publication and dissemination of the article in printed or electronic formats and copyrights start at the moment the manuscript is accepted for publication. It also allows Journal Motricidade to use and commercialize the article in terms of licensing, lending or selling its content to indexation/abstracts databases and other entities.
According to the terms of the Creative Commons licence, authors may reproduce a reasonable number of copies for personal or professional purpose but without any economic gains. SHERPA/RoMEO allows authors to post a final digital copy (post-printing version) of the article in their websites or on their institutions' scientific repository.