X – linked Hypohidrotic Ectodermal Dysplasia and atopic eczema – case report and discussion on mechanisms of eczema
Keywords:
Atopic dermatitis, developmental defects, ectodermal dysplasia
Abstract
X-linked Hypohidrotic Ectodermal Dysplasia (XHED) is an inherited disorder that involves defective development of tissues derived from embryonic ectoderm and it is generally suspected by the triad of hypohidrosis, hypotrichosis and hypodontia.
We report a four-year-old boy with a persistent and severe eczema, anodontia, a sparse, thin and blonde hair, periorbital wrinkling with hyperpigmentation and absence of sweating. Laboratory results showed elevation of total serum IgE and IgE specific to house dust mites and grass pollen. Skin biopsy revealed absence of eccrine and sebaceous glands and hair follicles. The genetic molecular study disclosed a c.463C>T (p.Arg155Cys) mutation of the EDA1 gene, consistent with X-linked HED.
Although XHED has a favorable prognosis, eczema is a major problem and the eczematous characteristics of patient's skin resemble those of atopic dermatitis. Ceramide profile, reduction of natural moisturizing factors due to hypohidrosis and skin barrier dysfunction elicited by airborne proteins likely contribute to persistent and difficult-to-control AD-like eczema. As a consequence of the rarity of the disease, obtaining a significant number of clinical studies to clarify and validate the pathways involved in skin barrier dysfunction and the consequent eczematous lesions in HED patients will probably remain a challenge.
Downloads
Download data is not yet available.
References
Itin PH. Ectodermal dysplasia: thoughts and practical concepts concerning disease classification - the role of functional pathways in the molecular genetic diagnosis. Dermatology. 2013; 226:111-4.
Fete M, Hermann J, Behrens J, Huttner KM. X-linked hypohidrotic ectodermal dysplasia (XLHED): clinical and diagnostic insights from an international patient registry. Am J Med Genet A. 2014; 164A:2437-42.
Callea M, Teggi R, Yavuz I, Tadini G, Priolo M, Crovella S, et al. Ear nose throat manifestations in hypoidrotic ectodermal dysplasia. Int J Pediatr Otorhinolaryngol. 2013; 77:1801-4.
Bluschke G, Nusken KD, Schneider H. Prevalence and prevention of severe complications of hypohidrotic ectodermal dysplasia in infancy. Early Hum Dev. 2010; 86:397-9.
Pavlis MB, Rice ZP, Veledar E, Bradley BR, Spraker MK, Chen SC. Quality of life of cutaneous disease in the ectodermal dysplasias. Pediatr Dermatol. 2010; 27:260-5.
Weidinger S, Novak N. Atopic dermatitis. Lancet 2016; 387:1109-22.
Jungersted JM, Hogh JK, Hellgren LI, Agner T, Jemec GB. Ceramide profile in hypohidrotic ectodermal dysplasia. Clin Exp Dermatol. 2012; 37:153-5.
Koguchi-Yoshioka H, Wataya-Kaneda M, Yutani M, Murota H, Nakano H, Sawamura D, et al. Atopic diathesis in hypohidrotic/anhidrotic ectodermal dysplasia. Acta Derm Venereol. 2015; 95:476-9.
Watabe A, Sugawara T, Kikuchi K, Yamasaki K, Sakai S, Aiba S. Sweat constitutes several natural moisturizing factors, lactate, urea, sodium, and potassium. J Dermatol Sci. 2013; 72:177-82.
Schafer T, Heinrich J, Wjst M, Adam H, Ring J, Wichmann HE. Association between severity of atopic eczema and degree of sensitization to aeroallergens in schoolchildren. J Allergy Clin Immunol. 1999; 104:1280-4.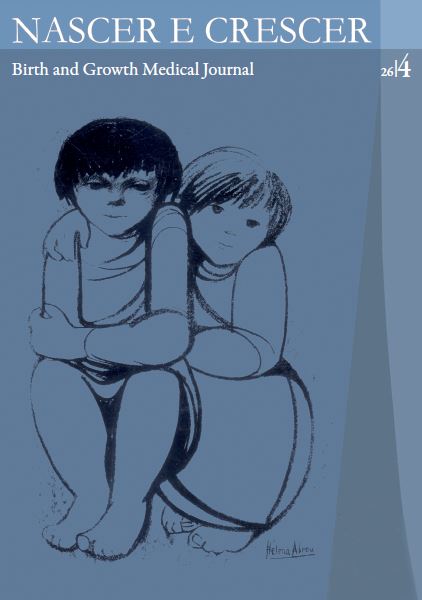 Downloads
Additional Files
How to Cite
1.
Moreira C, Duarte AF, Azevedo F, Mota A. X – linked Hypohidrotic Ectodermal Dysplasia and atopic eczema – case report and discussion on mechanisms of eczema. REVNEC [Internet]. 2017Dec.27 [cited 2023Sep.30];26(4):251-4. Available from: https://revistas.rcaap.pt/nascercrescer/article/view/10565
License
Copyright and access
This journal offers immediate free access to its content, following the principle that providing free scientific knowledge to the public provides greater global democratization of knowledge.
The works are licensed under a Creative Commons Attribution Non-commercial 4.0 International license.
Nascer e Crescer – Birth and Growth Medical Journal do not charge any submission or processing fee to the articles submitted.