Bilateral congenital semicircular canal malformation and hearing loss - case report
Keywords:
congenital abnormalities, semicircular canal, malformations, hearing loss
Abstract
The main aims of this observational study were to describe a poorly characterized malformation of the inner ear termed bilateral congenital semicircular canal malformation; determine if the degree and pattern of semicircular canal dysmorphology and the presence or absence of a well-formed cochlea predict audiological outcomes, type, and severity of congenital hearing loss; and investigate its relationship with known syndromic forms of hearing loss. Review of eight cases of hearing loss with radiographic evidence of congenital semicircular canal malformation was performed. Information was collected on clinical history, physical examination, computed tomography study and serial audiograms for all patients. Analyzed features included other syndrome-characteristic phenotypic dysmorphologies, audiometric configuration, severity and type of hearing loss, type of audiological rehabilitation, and presence of associated inner ear abnormalities besides those in the vestibular system.
Among the eight cases included in the study, six patients had recognized syndromes/chromosomal abnormalities. Hearing loss was moderate to profound in all cases. All patients had bilateral semicircular canal deformities, with usually identical anatomical pattern on each side. Of the eight cases, six had normal cochlear development; malformations in the tympanic membrane and external auditory canal were only found in one; changes in ossicular chain were found in three patients; vestibules and vestibular aqueduct were normal in most cases; and abnormalities of oval window development and hypoplasia were found in two cases.
The present study shows that a correlation between the severity and type of hearing loss and radiographic abnormalities is difficult to establish. Hearing loss associated with semicircular canal dysplasia is more likely due to anomalous membranous labyrinth development, which is not radiologically detectable by computerized tomography scan.
Downloads
Download data is not yet available.
References
Yu KK, Mukherji S, Carrasco V, Pillsbury HC, Shores CG. Molecular genetic advances in semicircular canal abnormalities and sensorineural hearing loss: a report of 16 cases. Otolaryngology—Head and Neck Surgery. 2003; 129:637-46.
Gettelfinger JD, John PD. Syndromic Hearing Loss: A Brief Review of Common Presentations and Genetics. Journal of Pediatric Genetics. 2018; 7:1-8.
Walther LE, Nath V, Krombach GA, Di Martino E. Bilateral posterior semicircular canal aplasia and atypical paroxysmal positional vertigo: a case report. Acta Otorhinolaryngologica Itall. 2008; 28:79.
Parnes LS, Chernoff WG. Bilateral semicircular canal aplasia with near-normal cochlear development: two case reports. Annals of Otology, Rhinology & Laryngology. 1990; 99:957-9.
Satar B, Mukherji SK, Telian SA. Congenital aplasia of the semicircular canals. Otology & neurotology. 2003; 24:437-46.
Salama N. Kallmann syndrome and deafness: an uncommon combination: A case report and a literature review. International Journal of Reproductive Biomedicine. 2016; 14:541.
Marlin S, Chantot-Bastaraud S, David A, Loundon N, Jonard L, Portnoï MF, et al. Discovery of a large deletion of KAL1 in 2 deaf brothers. Otol Neurotol. 2013; 34:1590-4.
Unzaki A, Morisada N, Nozu K, Ye MJ, Ito S, Matsunaga T, et al. Clinically diverse phenotypes and genotypes of patients with branchio-oto-renal syndrome. Journal of human genetics. 2018; 63:647.
Gavalas A, Studer M, Lumsden A, Rijli FM, Krumlauf R, Chambon P. Hoxa1 and Hoxb1 synergize in patterning the hindbrain, cranial nerves and second pharyngeal arch. Development. 1998; 125:1123-36.
Johnson J, lalwani AK. Sensorineural and conductive hearing loss associated with lateral semicircular canal malformation. Laryngoscope. 2000; 110:1673-9.
Higashi K, Matsuki C, Sarashina N. Aplasia of posterior semicircular canal in Waardenburg syndrome type II. J otolaryngol. 1992; 21:262-4.
Irie K, Ogata H, Mitsudome A. CT findings of the temporal bones in Waardenburg's syndrome. No To Hattatsu. 1990; 22:241-6.
Xu GY , Hao QQ , Zhong LL, , Ren W , Yan Y , Liu RY , et al. SOX10 mutation is relevant to inner ear malformation in patients with Waardenburg syndrome. Zhonghua er bi yan hou tou jing wai ke za zhi= Chinese journal of otorhinolaryngology head and neck surgery. 2016; 51:832-7.
Choo DI, Tawfik KO, Martin DM, Raphael Y. Inner ear manifestations in CHARGE: Abnormalities, treatments, animal models, and progress toward treatments in auditory and vestibular structures. In American Journal of Medical Genetics Part C: Seminars in Medical Genetics. 2017; 175:439-49.
Wineland A, Menezes MD, Shimony JS, Shinawi MS, Hullar TE, Hirose K. Prevalence of Semicircular Canal Hypoplasia in Patients With CHARGE Syndrome: 3C Syndrome. JAMA Otolaryngology–Head & Neck Surgery. 2017; 143:168-77.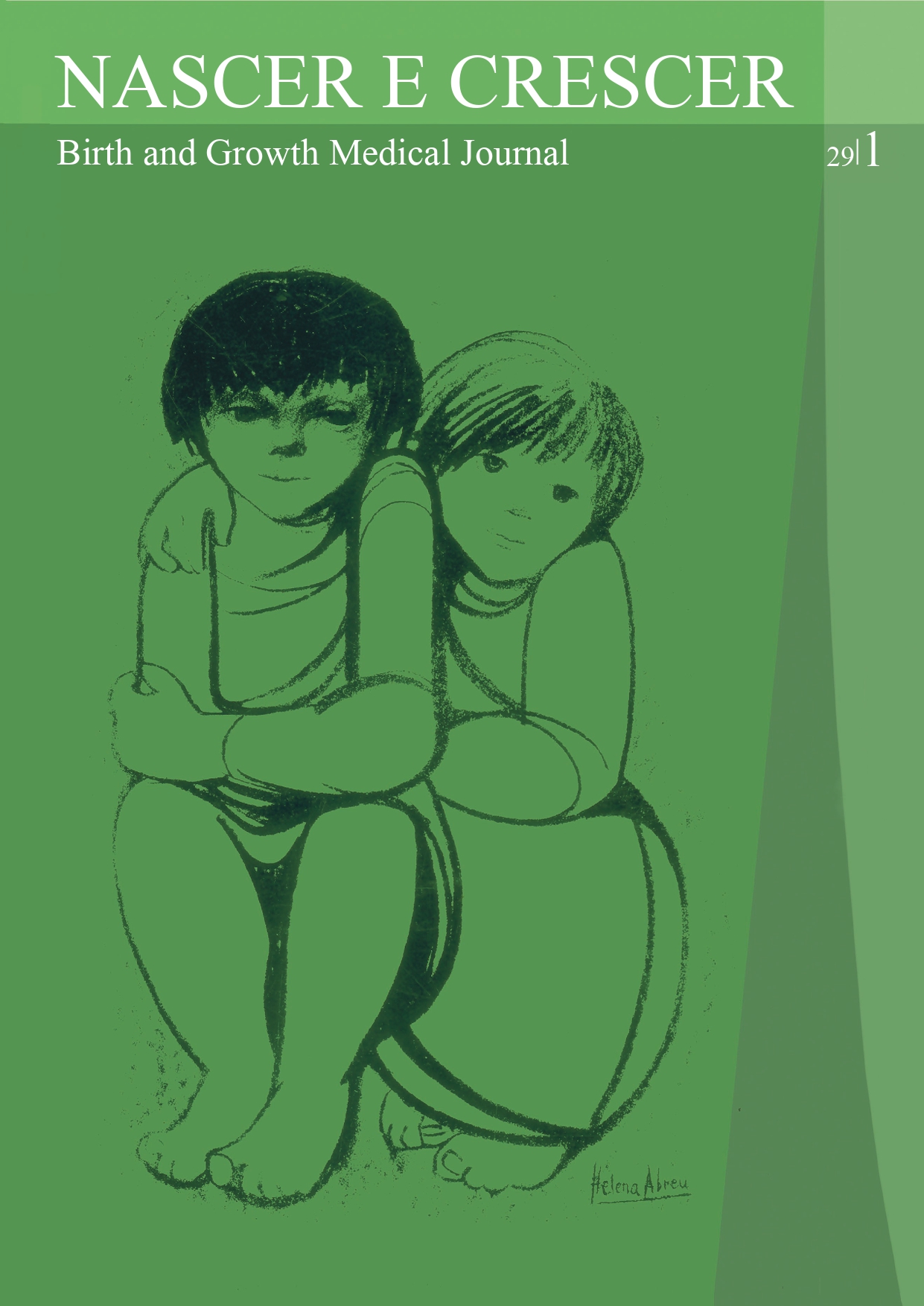 Downloads
How to Cite
1.
Costa JR, Coutinho MB, Soares T, Sousa CA e. Bilateral congenital semicircular canal malformation and hearing loss - case report. REVNEC [Internet]. 2020Mar.24 [cited 2023Jun.4];29(1):36-42. Available from: https://revistas.rcaap.pt/nascercrescer/article/view/15336
License
Copyright and access
This journal offers immediate free access to its content, following the principle that providing free scientific knowledge to the public provides greater global democratization of knowledge.
The works are licensed under a Creative Commons Attribution Non-commercial 4.0 International license.
Nascer e Crescer – Birth and Growth Medical Journal do not charge any submission or processing fee to the articles submitted.