Imaging clinical case
Ana Lia Gonçalo

Department of Pediatrics, Hospital Pedro Hispano, Unidade Local de Saúde de Matosinhos

Rui Almeida

Department of Pediatrics, Hospital Pedro Hispano, Unidade Local de Saúde de Matosinhos

Marco Pereira

Department of Pediatrics, Hospital Pedro Hispano, Unidade Local de Saúde de Matosinhos
Keywords:
enthesophyte, hyperostosis, occipital bone, technology
Abstract
Case report: The authors present the case of a 15-year-old adolescent boy with occipital spur noticed since the previous year and with progressive enlargement. No history of trauma or other associated symptoms was evident. Physical examination showed a hard tumefaction with no inflammatory signs and x-ray revealed occipital hyperostosis. The boy spent most free time playing with mobile gadgets, with poor body posture.
Discussion/Conclusion: Although considered a normal feature, occipital spur in adolescents and young adults may be linked to poor posture, for instance associated with prolonged use of handheld technology. Exaggerated technology use may be associated with several complaints and musculoskeletal symptoms should not be neglected.
References
Varghese E, Samson RS, Kumbargere SN, Pothen M. Occipital spur: understanding a normal yet symptomatic variant from orthodontic diagnostic lateral cephalogram. BMJ Case Rep. 2017; 2017.
Shahar D, Sayers MGL. Prominent exostosis projecting from the occipital squama more substantial and prevalent in young adult than older age groups. Sci Rep. 2018; 8:3354.
Shahar D, Sayers MG. A morphological adaptation? The prevalence of enlarged external occipital protuberance in young adults. J Anat. 2016; 229:286-91.
Moller LT, Zeynep. Occipital Horn Syndrome Orphanet encyclopedia2011. Available from: https://www.orpha.net/consor/cgi-bin/OC_Exp.php?lng=EN&Expert=198.
Toh SH, Coenen P, Howie EK, Mukherjee S, Mackey DA, Straker LM. Mobile touch screen device use and associations with musculoskeletal symptoms and visual health in a nationally representative sample of Singaporean adolescents. Ergonomics. 2019; 62:778-93.
Straker LM, Coleman J, Skoss R, Maslen BA, Burgess-Limerick R, Pollock CM. A comparison of posture and muscle activity during tablet computer, desktop computer and paper use by young children. Ergonomics. 2008; 51:540-55.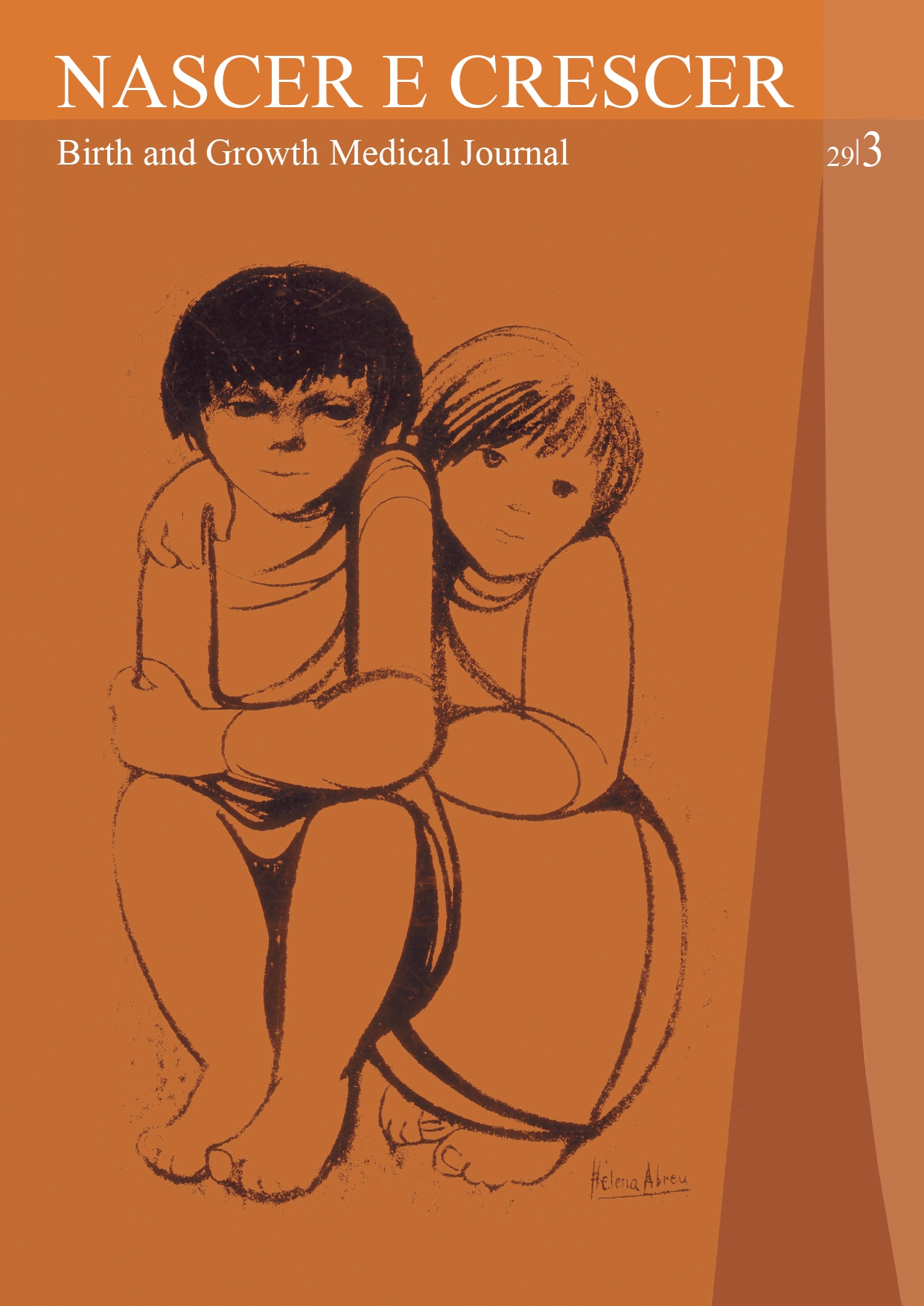 How to Cite
Gonçalo, A. L., Almeida, R., & Pereira, M. (2020). Imaging clinical case. NASCER E CRESCER - BIRTH AND GROWTH MEDICAL JOURNAL, 29(3), 162-164. https://doi.org/10.25753/BirthGrowthMJ.v29.i3.19083
Section
What is your Diagnosis?
Copyright (c) 2020 NASCER E CRESCER - BIRTH AND GROWTH MEDICAL JOURNAL
This work is licensed under a Creative Commons Attribution-NonCommercial 4.0 International License.
Copyright and access
This journal offers immediate free access to its content, following the principle that providing free scientific knowledge to the public provides greater global democratization of knowledge.
The works are licensed under a Creative Commons Attribution Non-commercial 4.0 International license.
Nascer e Crescer – Birth and Growth Medical Journal do not charge any submission or processing fee to the articles submitted.