Breastfeeding during the COVID-19 pandemic: Experience of a Neonatology Unit
Keywords:
breastfeeding, COVID-19, neonatology, SARS-CoV-2
Abstract
Introduction: The novel coronavirus disease (COVID-19) has originated a remarkable global health crisis and posed important challenges to the management of mothers and neonates. The scarcity of robust evidence on the effects of the infection on pregnancy and infants has led clinicians to question long-acquired practices, such as rooming-in and breastfeeding. The authors report the results of the follow-up of neonates born to COVID-19-infected mothers in a level III Neonatology Unit, mainly focusing on the type of feeding implemented.
Material and methods: A longitudinal study was performed based on the registry of all cases of infants born to mothers with confirmed SARS-CoV-2 infection during seven months (April 1─October 31, 2020). The institution's clinical guidance was updated throughout the study period. Obstetric and perinatal data concerning the considered time period were recorded, and follow-up of the mother and child after discharge was performed during the first month through a weekly teleconsultation.
Results: Fourteen dyads of SARS-CoV-2-infected mothers and neonates were managed according to the institution's clinical guidance. At discharge, half of the neonates were breastfed, and half were receiving infant formula (almost all due to initial separation between mother and newborn). At one-month follow-up, 71% of neonates were breastfed, 80% of which exclusively.
Discussion: The rates of breastfeeding at discharge were influenced by the institution's management phase. At one-month follow-up, these rates were below some national data, possibly reflecting difficulties in supporting breastfeeding during the pandemic.
Conclusion: The continuous support and promotion of breastfeeding during and after discharge should be a permanent concern of health teams, even in challenging times such as those imposed by the pandemic.
Downloads
Download data is not yet available.
References
WHO. World Health Organization. https://www.who.int/director-general/speeches/detail/who-director-general-s-opening-remarks-at-the-mission-briefing-on-covid-19---12-march-2020. Acessed on 22th November, 2020.
Lopes de Sousa AF, Carvalho H, Oliveira LB, Schneider G, Camargo E, Watanabe E, et al. Effects of COVID-19 Infection during Pregnancy and Neonatal Prognosis: What Is the Evidence?. Int J Environ Res Public Health. 2020;17(11):4176. http:.doi.org/10.3390/ijerph17114176.
Smith V, Seo D, Warty R, Payne O, Salih M, Chin KL, et al. Maternal and neonatal outcomes associated with COVID-19 infection: A systematic review. PLoS One. 2020;15(6):e0234187. http:.doi.org/10.1371/journal.pone.0234187.
Fernández-Carrasco FJ, Vázquez-Lara JM, González-Mey U, Gómez-Salgado J, Parrón-Carreño T, Rodríguez-Díaz L. Infección por coronavirus Covid-19 y lactancia materna: una revisión exploratoria [Coronavirus Covid-19 infection and breastfeeding: an exploratory review]. Rev Esp Salud Publica. 2020;94:e202005055.
Favre G, Pomar L, Qi X, Nielsen-Saines K, Musso D, Baud D. Guidelines for pregnant women with suspected SARS-CoV-2 infection. Lancet Infect Dis. 2020;20(6):652-653. http:.doi.org/10.1016/S1473-3099(20)30157-2.
Chen D, Yang H, Cao Y, Cheng W, Duan T, Fan C, et al. Expert consensus for managing pregnant women and neonates born to mothers with suspected or confirmed novel coronavirus (COVID-19) infection [published correction appears in Int J Gynaecol Obstet. 2020;150(1):136]. Int J Gynaecol Obstet. 2020;149(2):130-136. http:.doi.org/10.1002/ijgo.13146.
Lang GJ, Zhao H. Can SARS-CoV-2-infected women breastfeed after viral clearance?. J Zhejiang Univ Sci B. 2020;21(5):405-407. doi: 10.1631/jzus.B2000095.
https://www.cdc.gov/coronavirus/2019-ncov/hcp/caring-for-newborns.html. Acessed on 22th November, 2020.
Davanzo R, Moro G, Sandri F, Agosti M, Moretti C, Mosca F. Breastfeeding and coronavirus disease-2019: Ad interim indications of the Italian Society of Neonatology endorsed by the Union of European Neonatal & Perinatal Societies. Matern Child Nutr. 2020;16(3):e13010. http:.doi.org/10.1111/mcn.13010.
Covid-19 and pregnancy. BMJ. 2020;369:m1672. http:.doi.org/10.1136/bmj.m1672.
https://www.bfmed.org/abm-statement-coronavirus. Acessed on 22th November, 2020
https://www.who.int/emergencies/diseases/novel-coronavirus-2019/question-and-answers-hub/q-a-detail/q-a-on-covid-19-and-breastfeeding. Acessed on 22th November, 2020.
https://www.unicef.org/eap/breastfeeding-during-covid-19. Acessed on 22th November, 2020
Portugal. Ministério da Saúde. Direção-Geral da Saúde Orientação nº 026/2020 de 19/05/2020.
https://www.dgs.pt/documentos-e-publicacoes/iv-relatorio-com-os-dados-do-registo-do-aleitamento-materno-2013-pdf.aspx. Acessed on 22th November, 2020
Amatya S, Corr TE, Gandhi CK, Glass KM, Kresch MJ, Mujsce DJ, et al. Management of newborns exposed to mothers with confirmed or suspected COVID-19. J Perinatol. 2020;40(7):987-996. http:.doi.org/10.1038/s41372-020-0695-0.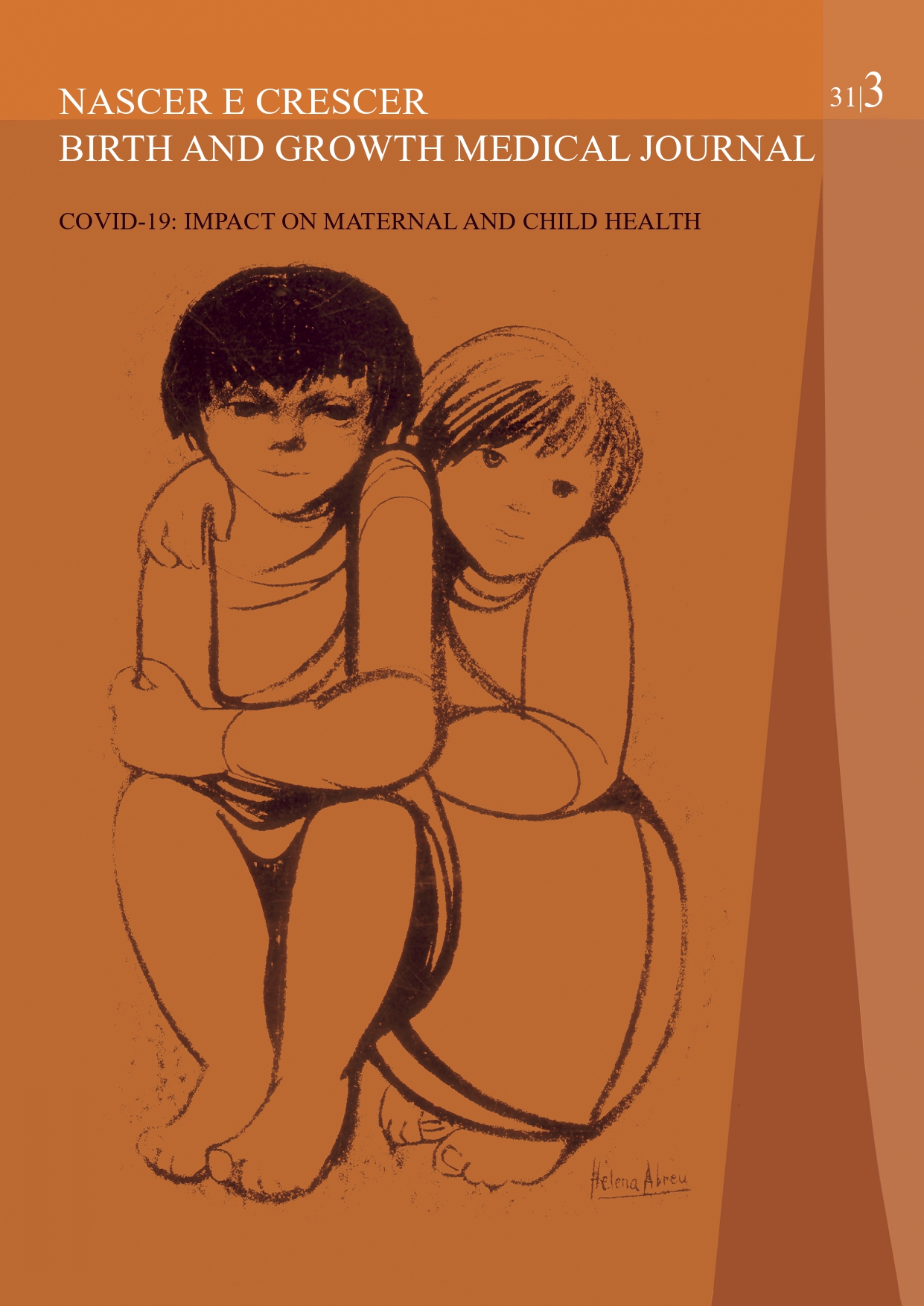 Downloads
How to Cite
1.
Vaz AS, Figueiredo S, Taborda A. Breastfeeding during the COVID-19 pandemic: Experience of a Neonatology Unit. REVNEC [Internet]. 2022Oct.19 [cited 2023Jun.4];31(3):206-11. Available from: https://revistas.rcaap.pt/nascercrescer/article/view/21503
Section
Original Articles
License
Copyright (c) 2022 Ana Sofia Vaz, Sara Figueiredo, Adelaide Taborda
This work is licensed under a Creative Commons Attribution-NonCommercial 4.0 International License.
Copyright and access
This journal offers immediate free access to its content, following the principle that providing free scientific knowledge to the public provides greater global democratization of knowledge.
The works are licensed under a Creative Commons Attribution Non-commercial 4.0 International license.
Nascer e Crescer – Birth and Growth Medical Journal do not charge any submission or processing fee to the articles submitted.