Hyperthyroidism caused by lingual thyroid tissue in a child with congenital hypothyroidism
Keywords:
Congenital hypothyroidism, ectopic hyperthyroidism, lingual thyroid
Abstract
Ectopic thyroid is an anomaly in the migration of the thyroid between the third and seventh week of gestation. Most of patients remain asymptomatic, hyperthyroidism is very unusual. The authors found only three cases reported to date. We report the case of a girl diagnosed with congenital hypothyroidism at birth, being since then medicated with levothyroxine. When she was 21-year-old, a routine blood test revealed a TSH level of 0.00 mU/L and therefore the hormone treatment was suspended since there was suspicion of iatrogenic hyperthyroidism, which was later excluded. Neither the thyroid ultrasound nor the thyroid scintigraphy showed thyroid tissue on-site, so a full body scintigraphy was performed which showed toxic ectopic lingual thyroid tissue. The treatment was started with metimazol 15 mg a day.
When a «new» hyperthyroidism is observed after a congenital hypothyroidism had been diagnosed, ectopic lingual thyroid must be suspected.
Downloads
Download data is not yet available.
References
Aisen AM, Martel W, Braunstein EM, McMillin KI, Phillips WA, Kling TF. MRI and CT evaluation of primary bone and softtissue tumors. AJR 1986; 146:749-56.
Amr B, Monib S. Lingual thyroid: A case report. Int J Surg Case Rep. 2011; 2: 313–5. doi: 10.1016/j.ijscr.2011.10.004.
Castanet M, Lyonnet S, Bonaiti-Pellie C, Polak M, Czernichow P, Leger J. Familial Forms of Thyroid Dysgenesis among Infants with Congenital Hypothyroidism. N Engl J Med 2000; 343:441-2. doi: 10.1056/NEJM200008103430614.
De Felice M, Di Lauro R. Thyroid development and its disorders: genetics and molecular mechanisms. Endocr Rev. 2004; 25:722-46.
Dubuis JM, Glorieux J, Richer F, Deal CL, Dussault JH, Van Vliet G. Outcome of severe congenital hypothyroidism: closing the developmental gap with early high dose levothyroxine treatment. JClinEndocrinolMetab. 1996; 81:222–7.
Fish J, Moore RM. Ectopic thyroid tissue and ectopic thyroid carcinoma: a review of the literature and report of a case. Ann Surg 1963; 157:212–21.
Fisher DA. Second International Conference on Neonatal Thyroid Screening: progress report. JPediatr. 1983; 102:653–4.
Thomas G, Hoilat R, Daniels JS, Kalagie W. Ectopic lingual thyroid: A case report. International Journal of Oral and Maxillofacial Surgery. 2003; 23:219-21.
LaFranchi SH, Austin J. How should we be treating children with congenital hypothyroidism? JPediatrEndocrinol. 2007; 20:559–78.
LiVolsi VA, Perzin KH, Savetsky L. Carcinoma arising in median ectopic thyroid. Cancer. 1974; 34:1303-15.
Abdallah-Matta MP, Dubarry PH, Pessey JJ, Caron P. Lingual thyroid and hyperthyroidism: a new case and review of the literature. J Endocrinol Invest. 2002 Mar;25:264-7.
Muir A, Daneman D, Daneman A, Ehrlich R. Thyroid scanning ultrasound, and serum thyroglobulin in determining the origin of congenital hypothyroidism. AmJDisChild. 1988; 142:214–6.
Sevinc A. Papillary carcinoma arising in subhyoid ectopic thyroid gland with no orthotopic thyroid tissue. Am J Surg. 2010; 200: e17-8.
Dasari SD, Bashetty NK, Prayaga NS. Radiofrequency ablation of lingual thyroid. Otolaryngol Head Neck Surg. 2007; 136:498-9.
Kumar SS, Kumar DMS, Thirunavukuarasu R. Lingual Thyroid—Conservative Management or Surgery? A Case Report. Indian J Surg. 2013; 75: 118–9. doi: 10.1007/s12262-012-0518-4.
Chiu TT, Su CY, Hwang CF, Chien CY, Eng HL. Massive bleeding from an ectopic lingual thyroid follicular adenoma during pregnancy. Am J Otolaryngol. 2002; 23:185-8.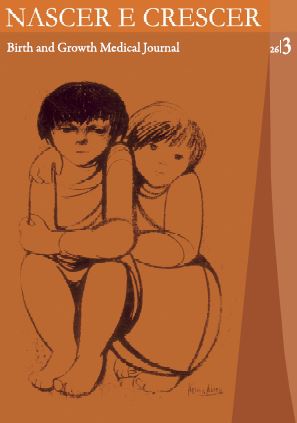 Downloads
Additional Files
How to Cite
1.
Torres M, Martins H, Loureiro A. Hyperthyroidism caused by lingual thyroid tissue in a child with congenital hypothyroidism. REVNEC [Internet]. 2017Nov.21 [cited 2022Aug.19];26(3):185-7. Available from: https://revistas.rcaap.pt/nascercrescer/article/view/9486
License
Copyright and access
This journal offers immediate free access to its content, following the principle that providing free scientific knowledge to the public provides greater global democratization of knowledge.
The works are licensed under a Creative Commons Attribution Non-commercial 4.0 International license.
Nascer e Crescer – Birth and Growth Medical Journal do not charge any submission or processing fee to the articles submitted.