Mody, the story of two siblings… the rare also happens!
Keywords:
MODY, diabetes mellitus, mutation, GCK gene
Abstract
Maturity Onset Diabetes of the Young (MODY) defines a subtype of non-insulin diabetes mellitus, without insulin resistance or autoimmune pancreatic β-cell dysfunction. Affects 1-4% of paediatric patients with diabetes. Usually there is a family history and it starts before 25 years-old.
We present a clinical case of a previously healthy boy, who was diagnosed with type 1 diabetes mellitus due to fasting hyperglycaemia. After getting to know the MODY diagnosis in a not cohabitant sister from maternal lineage, we performed a genetic study which identified a heterozygote mutation in GCK gene.
The high clinical suspicion, usually supported by suggestive familiar history, is the first step to make the correct diagnosis. However, this uncommon form of diabetes and the need of expensive and long waiting complementary tests, delay identification, therapeutic and prognostic optimization, as well as genetic counselling.
Downloads
Download data is not yet available.
References
Siddiqui K, Musambil M, Nazir N. Maturity onset diabetes of the young (MODY)-History, first case reports and recent advances. Gene. 2014; 555:66-71. doi:10.1016/j.gene.2014.09.062.
Thanabalasingham G, Owen KR. Diagnosis and management of maturity onset diabetes of the young (MODY). British Medical Journal . 2011; 343:d6044. doi:10.1136/bmj.d6044.
Alkorta-Aranburu G, Carmody D, Chenga Y W, Nelakuditia V, Jazzmyne L M, Dickensb T, Das S, Greeley S A W, et al. Phenotypic heterogeneity in monogenic diabetes: The clinical and diagnostic utility of a gene panel-based nextgeneration sequencing approach. Mol Genet Metab. 2014; 113: 315–20. doi:10.1016/j.ymgme.2014.09.007.
Rubio-Cabezas O, Hattersley AT, Njolstad PR, Mlynarski W, Ellard S, Whiw N, et al. The diagnosis and management of monogenic diabetes in children and adolescents. Pediatr Diabetes. 2014; 15:47-64.
Pihoker C, Gilliam LK, Ellard S, Dabelea D, Davis C, Dolan LM, et al. Prevalence, Characteristics and Clinical Diagnosis of Maturity Onset Diabetes of the Young Due to Mutations in HNF1A, HNF4A, and Glucokinase: Results From the SEARCH for Diabetes in Youth. J Clin Endocrinol Metab. 2013: 98: 4055–62. doi:10.1210/jc.2013-1279.
Nobre EL, Lopes LO, Miranda A, Pragosa M, Jácome de Castro J. Mature Onset Diabetes of the Young. Acta Médica Portuguesa. 2002; 15: 435-9.
Weinreich SS, Bosma A, Henneman L, Rigter T, Spruijt CMJ, Grimbergen AJ, et al. A decade of molecular genetic testing for MODY: retrospective study of utilisation in the Netherlands. Eur J Hum Genetics. 2015; 23: 29-33.
Shields BM, Hicks S, Shepherd MH, Colclough K, Hattersley AT, Ellard S. Maturity-onset diabetes of the young (MODY): How many cases are we missing? Diabetologia. 2010; 53:2504-8.
Pinelli M, Acquaviva F, Barbetti F, Caredda E, Cocozza S, Delvecchio M, et al. Identification of candidate children for maturity-onset diabetes of the young type 2 (MODY2) gene testing: A seven-item clinical flowchart (7-iF). PLoS One. 2013; 8:e79933. doi:10.1371/journal.pone.0079933.
Shammas C, Neocleous V, Phelan MM, Lian LY, Skordis N, Phylactou LA. A report of 2 new cases of MODY2 and review of the literature: Implications in the search for type 2 Diabetes drugs. Metabolism. 2013; 62:1535-42. doi:10.1016/j.metabol.2013.06.007.
Owen KR, Thanabalasingham G, James TJ, Karpe F, Farmer AJ, McCarthy MI, et al. Assessment of high-sensitivity C-reactive protein levels as diagnostic discriminator of maturity-onset diabetes of the young due to HNF1A mutations. Diabetes Care. 2010; 33: 1919-24. doi:10.2337/dc10-0288.
Lorini R, Klersy C, D'Annunzio G, Massa O, Minuto N, Iafusco D, et al. Maturity-Onset Diabetes of the Young in Children With Incidental Hyperglycemia: A multicenter Italian study of 172 families. Diabetes Care. 2009; 32:1864-6. doi:10.2337/dc08-2018.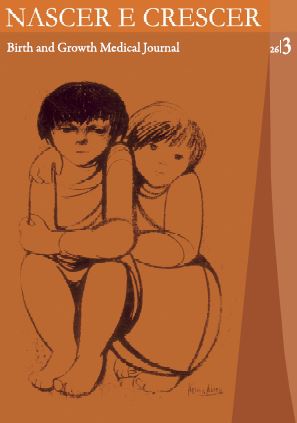 Downloads
How to Cite
1.
Mota AFM, Parente SO, Freixo JO. Mody, the story of two siblings… the rare also happens!. REVNEC [Internet]. 2017Sep.5 [cited 2023Jan.27];26(3):188-90. Available from: https://revistas.rcaap.pt/nascercrescer/article/view/9582
License
Copyright and access
This journal offers immediate free access to its content, following the principle that providing free scientific knowledge to the public provides greater global democratization of knowledge.
The works are licensed under a Creative Commons Attribution Non-commercial 4.0 International license.
Nascer e Crescer – Birth and Growth Medical Journal do not charge any submission or processing fee to the articles submitted.