Lumbar tattoo and labour analgesia: a case of surgical approach
Keywords:
Epidural, pregnant, skin incision, tattoo
Abstract
Introduction: Pregnant women with lumbar tattoo presenting for labour analgesia are currently increasing in number. Many anaesthesiologists are hesitant in placing an epidural catheter over a lumbar tattoo based on a theory that tissue coring of fragments of tattoo pigment into the epidural, subdural or subarachnoid space, could lead to epidermoid tumours or arachnoiditis. For these reasons, it has been recommended to avoid the introduction of epidural needle directly through skin with tattoo pigments.
Case Report: We describe a case where the placement of the epidural catheter was made after a surgical incision of the skin to obtain a puncture field free from ink pigment.
Conclusion: Surgical approach to epidural catheter placement reduces the risk of the pigment-entrainment phenomenon from the skin to the epidural space.
References
Kluger N. Body art and pregnancy. Eur J Obstet Gynecol Reprod Biol. 2010; 153: 3-7.
Laumann AE, Derick AJ. Tattoos and body piercings in the United States: a national data set. J Am Acad Dermatol 2006; 55:413–21.
Sng BL, Kwok SC, Sia AT. Modern neuraxial labour analgesia. Curr Opin Anaesthesiol. 2015; 28:285-9.
Gaspar A, Serrano N. Neuroaxial blocks and tattoos: a dilemma? Arch Gynecol Obstet. 2010; 282:255–60.
Sleth JC, Guillot B, Kluger N. Lumbar tattoos and neuraxial anaesthesia in obstetrics: practice survey in Languedoc-Roussillon, France. Ann Fr Anesth Reanim. 2010; 29:397–401.
Raynaud L, Mercier FJ, Auroy Y, Benhamou D; SOS ALR. Epidural anaesthesia and lumbar tattoo: what to do? Ann Fr Anesth Reanim. 2006; 25:71-3.
Douglas M J, Swenerton J E. Epidural anesthesia in three parturients with lumbar tattoos: A review of possible implications. Can J Anesth 2002; 49:1057–60.
Ferraz IL, GA Barros Ferreira Neto PG, et al. Does Spinal Block Through Tattooed Skin Cause Histological Changes in Nervous Tissue and Meninges?: An Experimental Model in Rabbits. Reg Anesth Pain Med 2015; 40:533-8.
Welliver D, Welliver M, Carroll T, James P. Lumbar epidural catheter placement in the presence of low back tattoos: a review of the safety concerns. AANA J. 2010; 78:197–201.
Mercier FJ, Bonnet MP. Tattooing and various piercing: anaesthetic considerations. Curr Opin Anaesthesiol. 2009; 22:436-41.
Aguilar Godoy J, Alonso Chico A, González Zarco LM, Ruiz Uchupi P. Comment on the letter "Spinal anesthesia and tattos". Rev Esp Anestesiol Reanim. 2004; 51:412-3.
Jack CM, Adwani A, Krishnan H. Tattoo pigment in an axillary lymph node simulating metastatic malignant melanoma. Int Semin Surg Oncol. 2005; 2:28.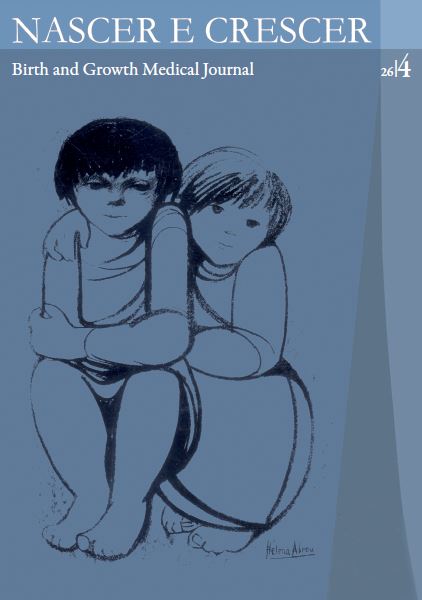 Downloads
Additional Files
How to Cite
Duque, M., Lopes, J., Ribeiro, S., & Araújo, I. (2017). Lumbar tattoo and labour analgesia: a case of surgical approach. NASCER E CRESCER - BIRTH AND GROWTH MEDICAL JOURNAL, 26(4), 255–257. https://doi.org/10.25753/BirthGrowthMJ.v26.i4.9826
License
Copyright and access
This journal offers immediate free access to its content, following the principle that providing free scientific knowledge to the public provides greater global democratization of knowledge.
The works are licensed under a Creative Commons Attribution Non-commercial 4.0 International license.
Nascer e Crescer – Birth and Growth Medical Journal do not charge any submission or processing fee to the articles submitted.