Corpos Estranhos Intraoculares: Caraterísticas Clínicas e Fatores de Prognóstico para Resultados Visuais
Palavras-chave:
Corpos Estranhos no Olho, Ferimentos Oculares Penetrantes, Resultado do Tratamento, Vitrectomia
Resumo
Introdução: O nosso objectivo foi avaliar a apresentação clínica de pacientes com corpo estranho intraocular (CEIO) e estabelecer fatores prognósticos para resultados visuais.
Métodos: Os processos clínicos de todos os pacientes submetidos a cirurgia pela presença de corpo estranho intraocular no Centro Hospitalar Universitário Porto na última década revistos retrospetivamente.
Resultados: Este estudo incluiu 108 olhos de 107 pacientes. A maioria dos pacientes eram adultos (88,9%) em idade ativa (88,9% tinham 18-64 anos). As lesões de retina foram documentadas em 40,7% dos olhos e 17 (15,7%) olhos apresentaram-se com descolamento de retina. Sete (6,5%) olhos tinham endoftalmite à presentação. A maioria (78,7%) dos CEIOs eram metálicos e entraram no globo pela córnea (68,5%). A mediana (intervalo interquartil) do tempo para o primeiro procedimento foi de 1 (0-2) dias, com a maioria dos CEIOs (72,2%) recuperados naquele momento. A vitrectomia via pars plana foi realizada em 74 olhos. Neste estudo, boa acuidade visual (AV) à admissão, ausência de lesão lenticular, hifema e descolamento de retina e presença de hemorragia vítrea foram associados a boa AV final.
Conclusão: Os traumas oculares abertos com CEIOs são um problema de saúde pública que impõe despesas sociais e económicas evitáveis, pois afetam principalmente indivíduos em idade ativa. Assim, a intervenção precoce e as medidas preventivas são de extrema importância para prevenir a incapacidades sociais e visuais.
Downloads
Não há dados estatísticos.
Referências
Jung HC, Lee SY, Yoon CK, Park UC, Heo JW, Lee EK. Intraocular foreign body: diagnostic protocols and treatment strategies in ocular trauma patients. J Clin Med. 2021;10. doi:10.3390/jcm10091861
Anguita R, Moya R, Saez V, Bhardwaj G, Salinas A, Kobus R, et al. Clinical presentations and surgical outcomes of intraocular foreign body presenting to an ocular trauma unit. Graefes Arch Clin Exp Ophthalmol. 2021;259:263-8. doi:10.1007/ s00417-020-04859-6
Liu CC, Tong JM, Li PS, Li KK. Epidemiology and clinical outcome of intraocular foreign bodies in Hong Kong: a 13-year review. Int Ophthalmol. 2017;37:55-61. doi:10.1007/s10792- 016-0225-4
Patel SN, Langer PD, Zarbin MA, Bhagat N. Diagnostic value of clinical examination and radiographic imaging in identification of intraocular foreign bodies in open globe injury. Eur J Ophthalmol. 2012;22:259-68. doi:10.5301/EJO.2011.8347
Erakgun T, Egrilmez S. Prognostic factors in vitrectomy for posterior segment intraocular foreign bodies. J Trauma. 2008;64:1034-7. doi:10.1097/TA.0b013e318047dff4
Imrie FR, Cox A, Foot B, Macewen CJ. Surveillance of intraocular foreign bodies in the UK. Eye. 2008;22:1141-7. doi:10.1038/ sj.eye.6702868
Forrest KY, Cali JM. Epidemiology of lifetime work-related eye injuries in the U.S. population associated with one or more lost days of work. Ophthalmic Epidemiol. 2009;16:156- 62. doi:10.1080/09286580902738175
Coelho J, Ferreira A, Kuhn F, Meireles A. Globe ruptures: outcomes and prognostic analysis of severe ocular trauma. Ophthalmologica. 2022;245:376-84. doi:10.1159/000523705
Kuhn F, Maisiak R, Mann L, Mester V, Morris R, Witherspoon CD. The Ocular Trauma Score (OTS). Ophthalmol Clin North Am. 2002;15:163-5, vi. doi:10.1016/s0896-1549(02)00007-x
Pieramici DJ, Sternberg P Jr, Aaberg TM Sr, Bridges WZ Jr, Capone A Jr, Cardillo JA, et al. A system for classifying mechanical injuries of the eye (globe). The Ocular Trauma Classification Group. Am J Ophthalmol. 1997;123:820-31. doi:10.1016/s0002-9394(14)71132-8
Liu Y, Wang S, Li Y, Gong Q, Su G, Zhao J. Intraocular foreign bodies: clinical characteristics and prognostic factors influencing visual outcome and globe survival in 373 eyes. J Ophthalmol. 2019;2019:5208092. doi:10.1155/2019/5208092
Kuhn F, Morris R. Early vitrectomy for severe eye injuries. Eye. 2021;35:1288-9. doi:10.1038/s41433-020-01308-w
Victor AA, Violetta L, Kusumowidagdo G, Pranata R. Parsplana vitrectomy combined with retinectomy in severe openglobe injuries: A systematic review and meta-analysis. Eur J Ophthalmol. 2022;32:1652-61. doi:10.1177/11206721211029472
Ferreira N, Monteiro S, Meireles A, Kuhn F. Outcome of vitrectomy and chorioretinectomy in perforating eye injuries. Ophthalmic Res. 2015;53:200-6. doi:10.1159/000371494
Monteiro S, Meireles A. Prophylactic Chorioretinectomy in Open Ocular Trauma: A Series of 36 Eyes. Ophthalmologica. 2018;240:55-60. doi:10.1159/000486549
Thompson JT, Parver LM, Enger CL, , Mieler WF, Liggett PE. Infectious endophthalmitis after penetrating injuries with retained intraocular foreign bodies. Ophthalmology. 1993;100:1468-74. doi: 10.1016/s0161-6420(93)31454-5.
Nicoara SD, Irimescu I, Calinici T, Cristian C. Intraocular foreign bodies extracted by pars plana vitrectomy: clinical char- acteristics, management, outcomes and prognostic factors. BMC Ophthalmol. 2015;15:151. doi:10.1186/s12886-015-0128-6
Williams DF, Mieler WF, Abrams GW, Lewis H. Results and prognostic factors in penetrating ocular injuries with retained intraocular foreign bodies. Ophthalmology. 1988;95:911-6.
Thompson WS, Rubsamen PE, Flynn Jr HW, Schiffman J, Cousins SW. Endophthalmitis after penetrating trauma: risk factors and visual acuity outcomes. Ophthalmology. 1995;102:1696-701. doi: 10.1016/s0161-6420(95)30807-x.
El-Asrar AM, Al-Amro SA, Khan NM, Kangave D. Visual outcome and prognostic factors after vitrectomy for posterior segment foreign bodies. Eur J Ophthalmol. 2000;10:304-11. doi:10.1177/112067210001000406
Zhang Y, Zhang M, Jiang C, Qiu HY. Intraocular foreign bodies in china: clinical characteristics, prognostic factors, and visual outcomes in 1,421 eyes. Am J Ophthalmol. 2011;152:66-73 e1. doi:10.1016/j.ajo.2011.01.014
Colyer MH, Weber ED, Weichel ED, Dick JS, Bower KS, Ward TP, et al. Delayed intraocular foreign body removal without endophthalmitis during Operations Iraqi Freedom and Enduring Freedom. Ophthalmology. 2007;114:1439-47. doi:10.1016/j.ophtha.2006.10.052
Ehlers JP, Kunimoto DY, Ittoop S, Maguire JI, Ho AC, Regillo CD Metallic intraocular foreign bodies: characteristics, interventions, and prognostic factors for visual outcome and globe survival. Am J Ophthalmol. 2008;146:427-33. doi:10.1016/j. ajo.2008.05.021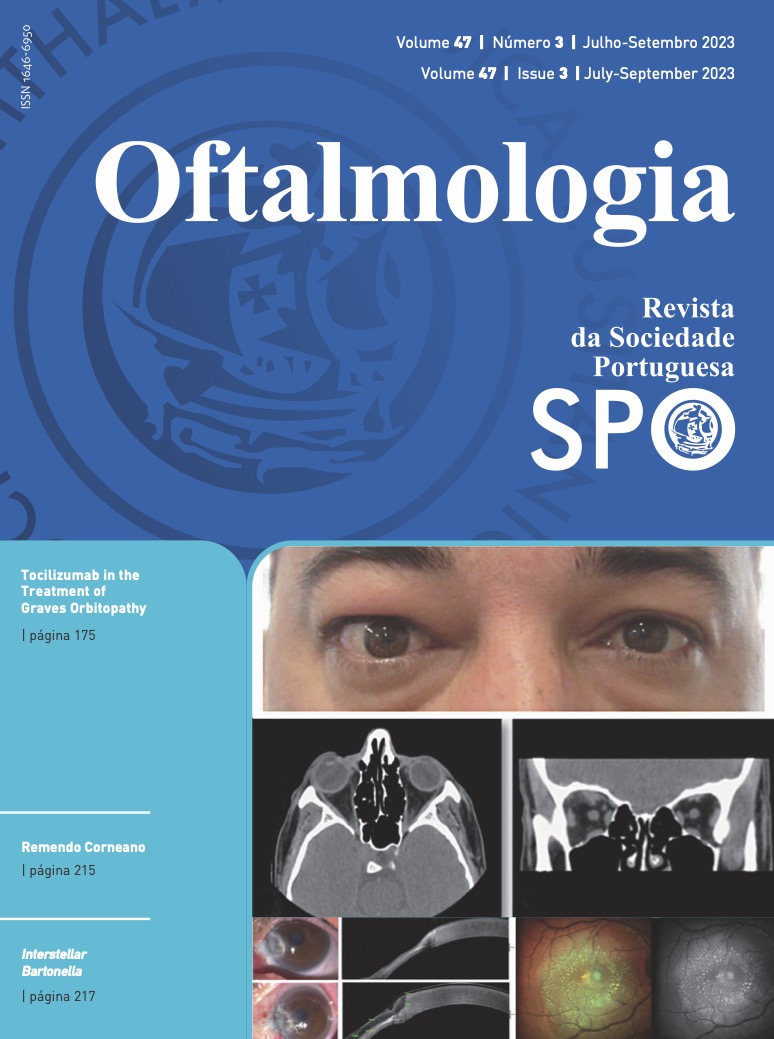 Downloads
Como Citar
Ferreira, A., Barbosa Ribeiro, B., Coelho, J., & Meireles, A. . (2023). Corpos Estranhos Intraoculares: Caraterísticas Clínicas e Fatores de Prognóstico para Resultados Visuais. Revista Sociedade Portuguesa De Oftalmologia, 47(3), 182–191. https://doi.org/10.48560/rspo.28266
Licença
Direitos de Autor (c) 2023 Revista Sociedade Portuguesa de Oftalmologia
Este trabalho encontra-se publicado com a Licença Internacional Creative Commons Atribuição 4.0.
CC BY
Não se esqueça de fazer o download do ficheiro da Declaração de Responsabilidade Autoral e Autorização para Publicação e de Conflito de Interesses
O artigo apenas poderá ser submetido com esse dois documentos.
Para obter o ficheiro da Declaração de Responsabilidade Autoral, clique aqui
Para obter o ficheiro de Conflito de Interesses, clique aqui