Bullfighting, violence and development: opinions and evidence
Luís Capucha

Instituto Universitário de Lisboa, ISCTE-IUL, Lisboa, Portugal

Luís Pereira

Mestre em Desenvolvimento, Diversidades Locais e Desafios Mundiais, ISCTE-IUL, Lisboa, Portugal

Tiago Tavares

Master in Finance, INDEG/ISCTE, Lisboa, Portugal
Keywords:
bullfight, development, violence
Abstract
The argument that the participation or attendance of children in bullfights (considered as an anachronistic practice, reminiscent of the past unworthy of modern societies) impairs their psychological development and encourages violent behaviour, is being disseminated in recent years. Some international bodies have also issued similar opinions. The present article intends, in a modest way and without controversy around the subject, to test the bases of empirical sustentation of such argument. For this purpose, has been constructed a "bullfighting activity index" that shows the intensity of the presence of bullfighting in each county of Portugal. This index has been correlated with the purchasing power index (approximation to the level of development of the county) and the crime rate (approximation to the putative psychological effects of bullfighting). It was found that there is no significant correlation between attendance or participation in bullfighting activities, on one hand, and levels of development and crime, including violent crime on the other hand.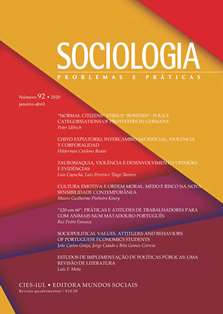 Authors who publish in this Journal must agree the following terms and conditions:
Authors retain copyright and grant the Journal the right to first publication, while simultaneously agreeing to a

Creative Commons Attribution License

, which allows others to share their work on condition that they cite the original author(s) and recognise that the latter's work was first published in this Journal.

Authors are authorised to enter into additional contracts separately, for non-exclusive distribution of the version of the work that is published in this Journal (e.g. publication in an institutional repository or as a book chapter), subject to recognition of initial publication in this Journal.