Anesthesia Management of a Patient with Brugada Syndrome for an Urgent Procedure
Palavras-chave:
Anesthesia; Arrhythmias, Cardiac; Brugada Syndrome
Resumo
Brugada syndrome is a cardiac conduction abnormality accounting for up to 20% of sudden deaths. It is important for anesthesiologists to be familiar with this syndrome in order to safely manage these
patients. At present time, there are no definite recommendations for general or regional anesthesia. However, some anesthetic agents are noted to have an association with ST segment elevations and can result in an increased risk of arrhythmias.
The most important aspect in the anesthetic approach is careful consideration upon the administration of every drug. Besides this, back up plans should be made in advance, as for every patient undergoing any anesthetic procedure. This case report targets the challenges faced by the anesthesia providers in administering safe anesthesia to a patient with Brugada syndrome, especially in an urgent scenario,
and considers alternative anesthetic agents for these patients in order to minimize their risks under anesthesia.
Downloads
Não há dados estatísticos.
Referências
1. Hoogendijk MG, Opthof T, Postema PG, Wilde AA, de Bakker JM, Coronel R. The Brugada ECG pattern: a marker of channelopathy, structural heart disease, or neither? Toward a unifying mechanism of the Brugada syndrome. Circ Arrhythm Electrophysiol. 2010;3:283-90. doi: 10.1161/CIRCEP.110.937029.

2. Smith D, Martz D. Brugada Syndrome: A Review of Perioperative Management For Anesthesiologists. [accessed Jan 2018] Available at: http://www.anesthesiologynews.com/download/Brugada_ANSE15_WM.pdf

3. Carey S, Hocking M. Brugada syndrome--a review of the implications for the anaesthetist. Anaesth Intensive Care. 2011;39:571-7.

4. Sorajja D, Ramakrishna H, Poterack A K, Shen WK, Mookadam F. Brugada syndrome and its relevance in the perioperative period. Ann Card Anaesth. 2015;18:403-13. doi: 10.4103/0971-9784.159812.

5. Guler N, Kati I, Demirel CB, Bilge M, Eryonucu B, Topal C. The effects of volatile anesthetics on the Q–Tc interval. J Cardiothorac Vasc Anesth. 2001; 15: 188–91. doi:10.1053/jcan.2001.21949.

6. Rook MB, Bezzina Alshinawi C, Groenewegen WA, Groenewegen WA, van Gelder IC, van Ginneken AC, et al. Human SCN5A gene mutations alter cardiac sodium channel kinetics and are associated with the Brugada syndrome. Cardiovasc Res. 1999;44:507–17.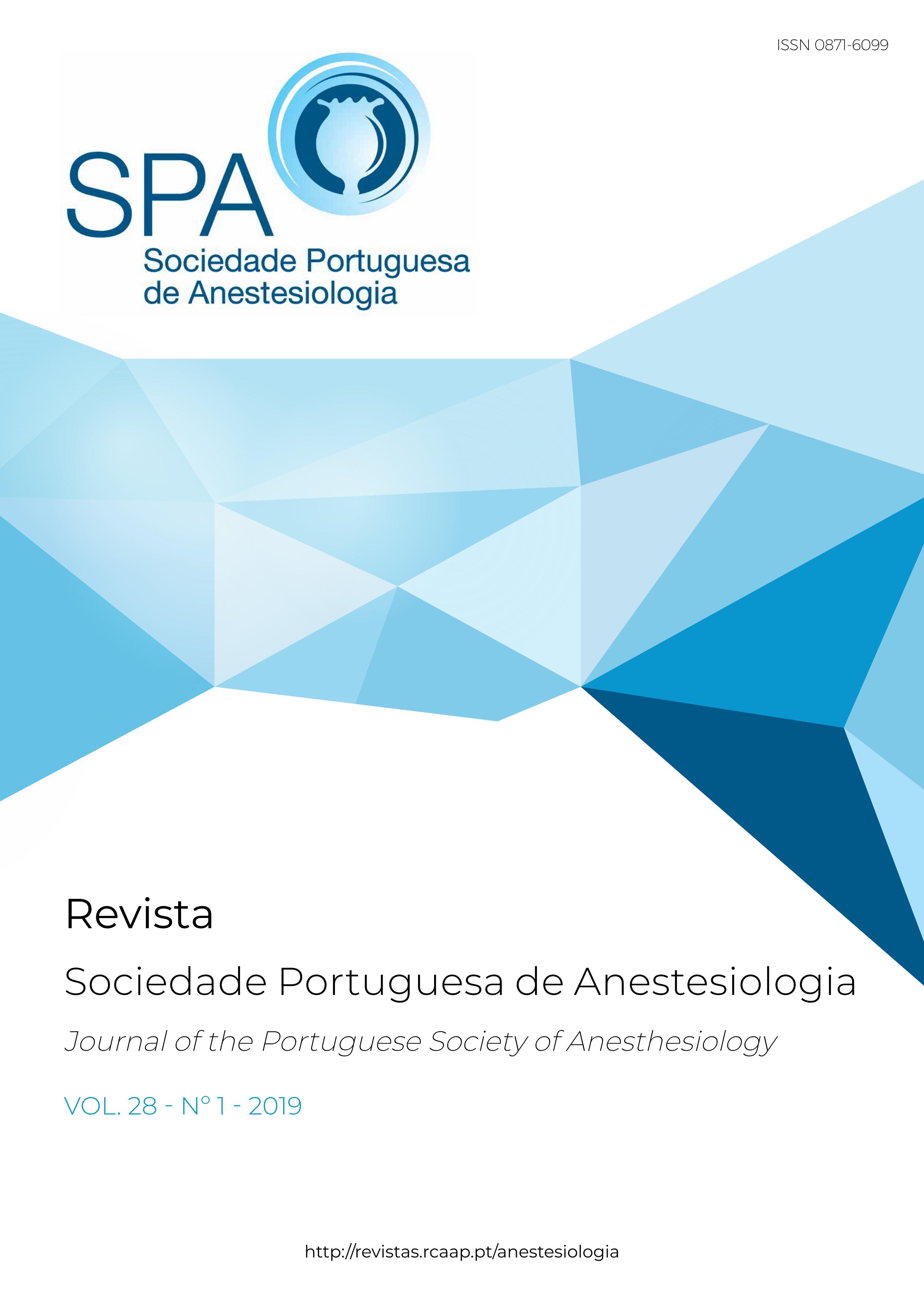 Downloads
Como Citar
Ribeiro, M. V., Cunha, A. S., Damas, A. M., & Rodrigues, I. (2019). Anesthesia Management of a Patient with Brugada Syndrome for an Urgent Procedure. Revista Da Sociedade Portuguesa De Anestesiologia, 28(1), 67–69. https://doi.org/10.25751/rspa.15812
Licença
Os artigos estão livremente disponíveis para serem lidos, descarregados e partilhados a partir do momento da sua publicação.
A RSPA reserva-se o direito de comercialização do artigo enquanto parte integrante da revista (na elaboração de separatas, por exemplo). O autor deverá acompanhar a carta de submissão com a declaração de cedência de direitos de autor para fins comerciais.
Relativamente à utilização por terceiros a Revista da SPA rege-se pelos termos da licença Creative Commons "Atribuição – uso Não-Comercial (CC BY-NC).
Após publicação na RSPA, os autores ficam autorizados a disponibilizar os seus artigos em repositórios das suas instituições de origem, desde que mencionem sempre onde foram publicados.