Design and Validation of a Scale to Measure Fear of the Aquatic Environment in children
Abstract
Although fear in early childhood is an emotion that permits survival of danger, fear of water can block and limit children's adaptive development towards this very fear. Aquatic competence is an important milestone in the improvement of general health in childhood, but there are no scales that measure how fear of water can hinder a child's development in the aquatic environment. This study aimed to design and analyze the validity of a Scale to Measure Fear of the Aquatic Environment (SFAE) to evaluate the perceived fear of the aquatic environment in three- to six-year-old children. Construct validity was also evaluated by verifying its relation to aquatic competence. The exploratory and confirmatory factor analyses support the use of five dimensions of influence on the perception of fear of the aquatic environment: social context, equipment/installations, attitude, experiences, and competence. The correlation pattern also supports construct validity showing negative and significant relations between fear and aquatic competence. The SFAE shows a promising initial validity for its use in the aquatic environment during early childhood.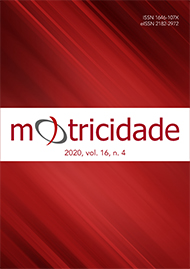 Downloads
License
The authors of submitted manuscripts must transfer the full copyright to Journal Motricidade / Desafio Singular Editions. Granting copyright permission allows the publication and dissemination of the article in printed or electronic formats and copyrights start at the moment the manuscript is accepted for publication. It also allows Journal Motricidade to use and commercialize the article in terms of licensing, lending or selling its content to indexation/abstracts databases and other entities.
According to the terms of the Creative Commons licence, authors may reproduce a reasonable number of copies for personal or professional purpose but without any economic gains. SHERPA/RoMEO allows authors to post a final digital copy (post-printing version) of the article in their websites or on their institutions' scientific repository.