Comparison between Under-13 and Under-15 Soccer Players in Small-Sided and Conditioned Games
Abstract
The present study aims to compare players' tactical behavior and performance in Small-Sided and Conditioned Games when playing against opponents from different age levels (Under-13 and Under-15). Participated in this study 93 players from U-13 (n=42) and U-15 (n=51) teams, who performed 7,416 tactical actions. The instrument used was the System of Tactical Assessment in Soccer (FUT-SAT) to analyze players' tactical actions. Descriptive statistics and independent t-tests and Mann-Whitney were used considering the value of p<0.05. Results indicated that the players in the U-13 age level obtained a better percentage of success in the movements supporting the player in possession of the ball, and the U-15 players performed more movements that allow the team to defend in unity. In addition, players of both age levels performed similarly, although U-13 players suffered more fouls and won more throw-ins or corner kicks, whereas the U-15 age level was more effective in regaining possession of the ball but suffered fewer attacks to their goal. It was concluded that the players of the U-15 age are more compacted compared to the U-13 players. Besides, both age performances were similar even though the players of the U-15 age level were more effective.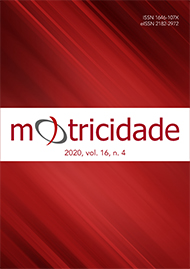 Downloads
License
The authors of submitted manuscripts must transfer the full copyright to Journal Motricidade / Desafio Singular Editions. Granting copyright permission allows the publication and dissemination of the article in printed or electronic formats and copyrights start at the moment the manuscript is accepted for publication. It also allows Journal Motricidade to use and commercialize the article in terms of licensing, lending or selling its content to indexation/abstracts databases and other entities.
According to the terms of the Creative Commons licence, authors may reproduce a reasonable number of copies for personal or professional purpose but without any economic gains. SHERPA/RoMEO allows authors to post a final digital copy (post-printing version) of the article in their websites or on their institutions' scientific repository.