VidaProFit: Characterization of Fitness Professionals in Portugal
VidaProFit
Abstract
VidaProFit intends to characterize fitness professionals in Portugal, namely Technical Directors and Physical Exercise Technician, regarding socio-demographic variables and their intervention. A questionnaire was built and validated, and professionals respond in an online platform. Data were collected between November 2019 and March 2020, with a sample of 445 professionals. Regarding the sociodemographic characterization, the professionals have an average age of 30,4 years, professional experience of 8,7 years and most of them are single, without children and graduates. The most performed functions are group classes, exercise room and personal training. Regarding working hours, 58% work 35 hours or more and 42% less or 34 hours, although 66,3% indicate that they don´t have other profession. Most of the professionals perform functions in gyms/health clubs and have a job as an independent worker with a salary between €631.98 and €842.63. Regarding the verification of the association between the variables age and professional experience and the number of hours per function, it was found that a higher age and number of years of professional experience are significantly associated with the higher number of hours of more associated with coordination tasks, seeming to indicate that as professionals get older and get experience they perform more this type of functions.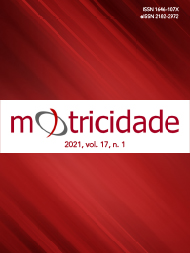 Downloads
License
The authors of submitted manuscripts must transfer the full copyright to Journal Motricidade / Desafio Singular Editions. Granting copyright permission allows the publication and dissemination of the article in printed or electronic formats and copyrights start at the moment the manuscript is accepted for publication. It also allows Journal Motricidade to use and commercialize the article in terms of licensing, lending or selling its content to indexation/abstracts databases and other entities.
According to the terms of the Creative Commons licence, authors may reproduce a reasonable number of copies for personal or professional purpose but without any economic gains. SHERPA/RoMEO allows authors to post a final digital copy (post-printing version) of the article in their websites or on their institutions' scientific repository.