Is young athletes' bullying behaviour different in team, combat or individual sports?
Abstract
This study aims at describing and comparing the prevalence of bullying behaviours and the perspective of victims, bystanders, and aggressors in team, individual, and combat sports. The survey involved 664 athletes of both genders (13-18 years old) from sports school and federated of several sports (team n=451, individual n=173, combat n=40), who filled in the Prevention of Violence in Sport Questionnaire. The prevalence of bullying (victims, bullies, and bystanders) was 26.7% in team sports; 19.1% in individual sports, and 23.1% in combat. Through the Chi-square test, it was verified that there were no significant differences between different sports in what concerns the prevalence of bullying behaviours; neither was there a difference in the perspective of victims, bystanders, and aggressors. The percentage was bigger in victims (7.7%) and bystanders (17.4%) in combat sports, and aggressors (3.3%) in team sports. There are not aggressors in combat sports. Further studies are needed in order to achieve a deeper knowledge of the problem and plan strategies to prevent this sort of behaviour.
Keywords: bullying, individual-sports, team-sports, combat-sports, youth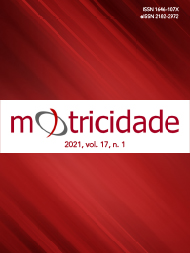 Downloads
License
The authors of submitted manuscripts must transfer the full copyright to Journal Motricidade / Desafio Singular Editions. Granting copyright permission allows the publication and dissemination of the article in printed or electronic formats and copyrights start at the moment the manuscript is accepted for publication. It also allows Journal Motricidade to use and commercialize the article in terms of licensing, lending or selling its content to indexation/abstracts databases and other entities.
According to the terms of the Creative Commons licence, authors may reproduce a reasonable number of copies for personal or professional purpose but without any economic gains. SHERPA/RoMEO allows authors to post a final digital copy (post-printing version) of the article in their websites or on their institutions' scientific repository.