Gold Score Basketball: a hybrid scientific talent identification model for male basketball
Keywords:
talent identification, talent selection, statistical modelling, basketball
Abstract
Talent identification in Brazilian basketball lacks systematization. The present study aimed to create a mathematical model to assess the sport's potential of young basketball players and test its psychometric properties. One hundred seventy-eight young male players (12 to 17 years old; regional/state competitive level) underwent a multidimensional battery of tests and were evaluated by their coaches (intangibles aspects of sporting potential and expectation of future success. Z scores and percentiles were calculated). The Gold Score Basketball was created through analytical and heuristic procedures, a hybrid (tests + coaches' eye) and a weighted index for estimating sporting potential with 26 quantitative and 2 qualitative indicators. The model classified 5.1% of athletes as excellence potential (Gold Score >90). Internal consistency was moderate (r = 0.59) and diagnostic stability was high (r = 0.82). Players with higher competitive level (62.9±14.4 vs 50.7±15.6, p<.001; construct validity) and players who won state/national championships (64.3±15.4 vs 52.1±15.6, p<.001; criterion validity) had higher Gold Score. In conclusion, Gold Score Basketball is a valid and reliable scientific model for assessing the sporting potential of young male basketball players, being useful in identifying sporting talents.
Keywords: talent identification; talent selection; statistical modelling; basketball.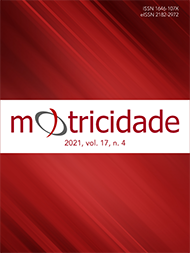 Downloads
License
The authors of submitted manuscripts must transfer the full copyright to Journal Motricidade / Desafio Singular Editions. Granting copyright permission allows the publication and dissemination of the article in printed or electronic formats and copyrights start at the moment the manuscript is accepted for publication. It also allows Journal Motricidade to use and commercialize the article in terms of licensing, lending or selling its content to indexation/abstracts databases and other entities.
According to the terms of the Creative Commons licence, authors may reproduce a reasonable number of copies for personal or professional purpose but without any economic gains. SHERPA/RoMEO allows authors to post a final digital copy (post-printing version) of the article in their websites or on their institutions' scientific repository.