Confirmatory factorial analysis of tactical skills inventory for sports in young Brazilian basketball players
Keywords:
Validation, Young athletes, Tactical skills, basketball
Abstract
The interest of the scientific community in the tactical skills of practitioners of collective invasion sports has generated the need for the development of instruments capable of measuring such skills in an attempt to contribute in this direction. The present study aimed to translate and analyze the psychometric properties (confirmatory validity and reliability) of the Tactical Skills Inventory for Sports into the Portuguese language in young Brazilian basketball players. A total of 866 basketball players with a mean age of 15.83± 1.25 years participated in the study. The Brazilian version of Tactical Skills Inventory for Sports was produced. Cronbach's alpha was calculated, and the Confirmatory Factor Analysis was performed. The Cronbach's alpha presented high indexes for 3 dimensions of Tactical Skills Inventory for Sports, and the sum of the items the Cronbach's alpha value was 0.91. The results of the Confirmatory Factor Analysis presented values: χ2/df= 3.120; Confirmatory Fit Index = 0.925; Tucker-Lewis index = 0.914; Standardized Root Mean Square Residual = 0.039; Root Mean Square Error of Aproximation = 0.050 (90% CI= 0.045–0.054). The obtained results allow us to consider the adapted Brazilian version of Tactical Skills Inventory for Sports, with 22 items, a robust and valid questionnaire, for use in young Brazilian basketball players.
 Keywords: validation; young athletes; tactical skills; basketball.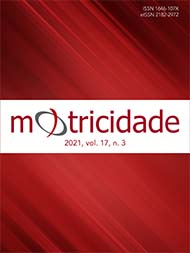 Downloads
License
The authors of submitted manuscripts must transfer the full copyright to Journal Motricidade / Desafio Singular Editions. Granting copyright permission allows the publication and dissemination of the article in printed or electronic formats and copyrights start at the moment the manuscript is accepted for publication. It also allows Journal Motricidade to use and commercialize the article in terms of licensing, lending or selling its content to indexation/abstracts databases and other entities.
According to the terms of the Creative Commons licence, authors may reproduce a reasonable number of copies for personal or professional purpose but without any economic gains. SHERPA/RoMEO allows authors to post a final digital copy (post-printing version) of the article in their websites or on their institutions' scientific repository.