Ratings of perceived exertion as an indicator of the tolerable exercise duration
Abstract
The ratings of perceived exertion (RPE) were originally suggested to estimate the exercise intensity, as RPE may respond to cardiopulmonary and metabolic responses such as alterations in HR and blood lactate concentrations. However, this interpretation does not agree with physiological responses observed exercising as RPE increases linearly with intensity, despite a physiological steady state is reached earlier. In this review article the disagreement between theory and experimental results is discussed as it could be associated with RPE's generation and modulation mechanisms. RPE's generation mechanisms through the central nervous system may be influenced by the exercise intensity, while the peripheral physiological responses may modulate the RPE and indicate the physiological state during which the exercise is performed. Thus, RPE may indicate the tolerable exercise duration for a given intensity.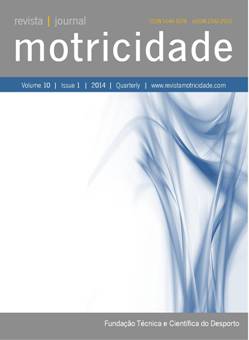 Downloads
License
The authors of submitted manuscripts must transfer the full copyright to Journal Motricidade / Desafio Singular Editions. Granting copyright permission allows the publication and dissemination of the article in printed or electronic formats and copyrights start at the moment the manuscript is accepted for publication. It also allows Journal Motricidade to use and commercialize the article in terms of licensing, lending or selling its content to indexation/abstracts databases and other entities.
According to the terms of the Creative Commons licence, authors may reproduce a reasonable number of copies for personal or professional purpose but without any economic gains. SHERPA/RoMEO allows authors to post a final digital copy (post-printing version) of the article in their websites or on their institutions' scientific repository.