Motor praxeology and the critical-surpassing approach: Preliminary approximations
Abstract
The present study aims to propose an approach within the field theoretical and methodological between the approach and critical-surpassing and the conceptual elements of motor praxeology in order to present the preliminary guidelines for the pedagogical practice of teaching physical education teacher. The assumption of this study is that through the appropriation of these two themes, an extra tool for the teaching of Games and Sports will be obtained, based on the methodological process of the critical-surpassing approach. Therefore, a clearer understanding on the functioning of games and sports is reached, since Motor Praxeology enables a deeper and comprehensive understanding on the internal logic of these practices, thus contributing to a better discernment of the dialectical logic that underpins the assumptions of the critical-surpassing proposal. To showcase these claims the volleyball game is taken as an example. The theoretical exercise developed in this study showed that praxeological knowledge can help teachers and students allowing a better understanding of the inherent relationships in each sport to overcome sportified models.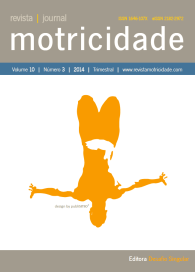 Downloads
License
The authors of submitted manuscripts must transfer the full copyright to Journal Motricidade / Desafio Singular Editions. Granting copyright permission allows the publication and dissemination of the article in printed or electronic formats and copyrights start at the moment the manuscript is accepted for publication. It also allows Journal Motricidade to use and commercialize the article in terms of licensing, lending or selling its content to indexation/abstracts databases and other entities.
According to the terms of the Creative Commons licence, authors may reproduce a reasonable number of copies for personal or professional purpose but without any economic gains. SHERPA/RoMEO allows authors to post a final digital copy (post-printing version) of the article in their websites or on their institutions' scientific repository.