Burnout in Brazilian junior tennis players
Abstract
The present study aimed to investigate the burnout syndrome in Brazilian young tennis players. The sample consisted of 88 tennis players, 69 male (M =15.3 years; SD = 1.2) and 19 females (M = 15.1 years; SD = 1.3). The Athlete Burnout Questionnaire and a characterization questionnaire were administered. It was used descriptive (frequencies, percentages, maximum and minimum) and inferential non-parametric statistics (Kruskal-Wallis and Mann Whitney), establishing significance of p< 0.05. Tennis players with less practice time (1-3 years) had lower rates of physical and emotional exhaustion (p= 0.005, D= −0.57) than those who trained for longer (4-7 years). Tennis players with lower training volume (up to 10 hours per week) had higher rates of burnout (p= 0.009, D= 0.33), sport devaluation (p= 0.011, D= 0.56) and reduced sense of accomplishment (p= 0.002, D= 0.44) than those with higher volumes (11 to 20 hours per week). The associations meet with theoretical assumptions of burnout syndrome and researches that investigated this population.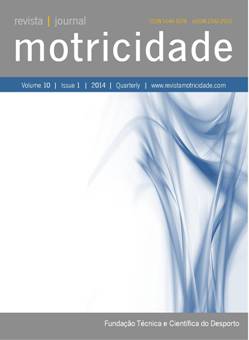 Downloads
License
The authors of submitted manuscripts must transfer the full copyright to Journal Motricidade / Desafio Singular Editions. Granting copyright permission allows the publication and dissemination of the article in printed or electronic formats and copyrights start at the moment the manuscript is accepted for publication. It also allows Journal Motricidade to use and commercialize the article in terms of licensing, lending or selling its content to indexation/abstracts databases and other entities.
According to the terms of the Creative Commons licence, authors may reproduce a reasonable number of copies for personal or professional purpose but without any economic gains. SHERPA/RoMEO allows authors to post a final digital copy (post-printing version) of the article in their websites or on their institutions' scientific repository.