Physical exercise remobilization effects on bone density in adults and elderly rats
Abstract
This study aimed to analyze the effects of remobilization by means of physical exercise on bone tissue in rats and elderly adults. A total of 80 male Wistar rats were split into two groups, aged five months to 15 months for adults and elderly; each one was further split into 4 subgroups: control (G1 and G5), immobilized groups (G2 and G6), remobilized groups free (G3 and G7), remobilized groups through exercise (G4 and G8). The immobilized groups were euthanized immediately after removal of immobilization, which lasted for 14 days. The remobilized groups remained free for seven days in collective cages after removal immobilization, followed by euthanasia. The exercise groups underwent swimming for 25 min/day during 7 days and then were euthanized. It was observed that groups remobilized G3/G7 and G4/G8, had an increase in bone mass compared to the G1/G5 and G2/G6. With respect to mechanical analysis, in the adult group was statistically significance when compared G2 and G3. The immobilization process caused a reduction in the bone mineral density, likewise reducing their mechanical properties.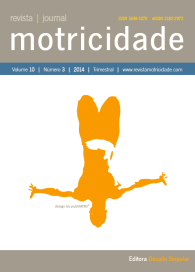 Downloads
License
The authors of submitted manuscripts must transfer the full copyright to Journal Motricidade / Desafio Singular Editions. Granting copyright permission allows the publication and dissemination of the article in printed or electronic formats and copyrights start at the moment the manuscript is accepted for publication. It also allows Journal Motricidade to use and commercialize the article in terms of licensing, lending or selling its content to indexation/abstracts databases and other entities.
According to the terms of the Creative Commons licence, authors may reproduce a reasonable number of copies for personal or professional purpose but without any economic gains. SHERPA/RoMEO allows authors to post a final digital copy (post-printing version) of the article in their websites or on their institutions' scientific repository.