Análise do tempo de reação a partir do desempenho motor de adolescentes praticantes do nado Crawl
Abstract
O Este estudo teve como objetivo avaliar o tempo de reação simples (TRS) e de escolha (TRE) e o desempenho no nado crawl em diferentes níveis de aprendizagem. Fizeram parte deste estudo 26 sujeitos com idade média de 12.15 anos divididos em dois grupos: iniciantes (G1) e avançados (G2). Avaliou-se o tempo de reação (TR) por meio de um software e o nado crawl com o Teste de Desempenho Motor do Nado Crawl. Os resultados demonstraram diferença no TRS com média de G1 = .341s e G2 = .271s (t = ˗ 3.670; p = .001; TE= 0.60) e no TRE com média de G1= .651s e G2= . 492s (t = ˗ 4.016; p = .001; TE= 0.63), indicando que no estágio avançado os aprendizes possuem melhores tempos de resposta. Uma correlação moderada encontrou-se entre G1 (iniciante) e TRE (avançado) (r = - 0.560; p = 0.046), e G2 (avançado) e TRS (avançado) (r = - 0.685; p = 0.010). Conclui-se que o TR é importante para o sucesso na performance do nado crawl uma vez que seu aprimoramento resulta em menores gastos de tempo em indivíduos em estágio avançado.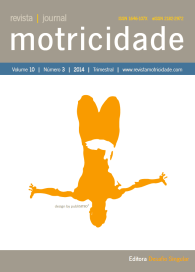 Downloads
License
The authors of submitted manuscripts must transfer the full copyright to Journal Motricidade / Desafio Singular Editions. Granting copyright permission allows the publication and dissemination of the article in printed or electronic formats and copyrights start at the moment the manuscript is accepted for publication. It also allows Journal Motricidade to use and commercialize the article in terms of licensing, lending or selling its content to indexation/abstracts databases and other entities.
According to the terms of the Creative Commons licence, authors may reproduce a reasonable number of copies for personal or professional purpose but without any economic gains. SHERPA/RoMEO allows authors to post a final digital copy (post-printing version) of the article in their websites or on their institutions' scientific repository.