Alterações na cinemática angular do movimento básico de Hidroginástica "Balanço Lateral" induzidas pelo incremento do ritmo musical
Abstract
O objetivo do presente estudo foi o de analisar a associação entre o ritmo musical e o padrão cinemático angular no movimento básico de Hidroginástica "Balanço Lateral". A amostra foi constituída por seis instrutoras, com pelo menos um ano de experiência na orientação de programas de Hidroginástica. Foram registadas imagens de vídeo no plano frontal do exercício básico de Hidroginástica "Balanço Lateral", recorrendo a um par de câmaras, proporcionando assim uma dupla projeção do movimento acima e abaixo do nível da água, em cinco ritmos incrementais (120 bpm, 135 bpm, 150 bpm, 165 bpm e 180 bpm). As imagens foram posteriormente digitalizadas e processadas num software específico (Ariel Performance Analysis Systems). Os resultados demonstraram que ocorreu uma diminuição do período do ciclo ao longo do protocolo incremental. O ângulo relativo entre a coxa e o tronco não apresentou relação significativa com o ritmo. Já o ângulo relativo entre a coxa e a perna e entre o braço e o antebraço diminuíram com o aumento do ritmo musical, embora neste último apenas visível para o membro esquerdo. Constata-se assim que existe uma tendência para a diminuição do deslocamento angular e manutenção da velocidade angular com o aumento do ritmo musical ainda que em pontos articulares isolados.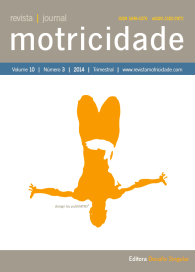 Downloads
License
The authors of submitted manuscripts must transfer the full copyright to Journal Motricidade / Desafio Singular Editions. Granting copyright permission allows the publication and dissemination of the article in printed or electronic formats and copyrights start at the moment the manuscript is accepted for publication. It also allows Journal Motricidade to use and commercialize the article in terms of licensing, lending or selling its content to indexation/abstracts databases and other entities.
According to the terms of the Creative Commons licence, authors may reproduce a reasonable number of copies for personal or professional purpose but without any economic gains. SHERPA/RoMEO allows authors to post a final digital copy (post-printing version) of the article in their websites or on their institutions' scientific repository.