Postural and Load Distribution Asymmetries in Preschoolers
Abstract
The aim of the study was to investigate the postural and load distribution symmetries in preschool children. The sample consisted of 67 preschool children with a median age of 54.00 ± 5.06 months. Postural parameters such as the horizontal alignment of the head, the acromion and Antero Superior Iliac Spines (ASIS), the angles between the acromial and ASIS, frontal, Q, knee and ankle and horizontal asymmetry of the scapula in relation to T3 were evaluated by photogrammetry. The baropodometry was used to identify the distribution of plantar pressure, while the medial arch of the foot was analyzed by photographic image. The median, standard deviation and the symmetry ratio were calculated for each parameter considered symmetry values greater than 90%. The Pearson's or Spearman's correlation were used between the parameters analyzed. There was asymmetric for postural and load distribution parameters for both genders and a null correlation between the symmetry of the surface and foot morphology and negative weak correlation significant between of the load foot and the front angle of the lower limb symmetries. The presence of asymmetries, postural and/or of load distribution, observed in early childhood suggest the importance of monitoring the postural and foot load parameters in the long term, preventing future postural and biomechanical alterations.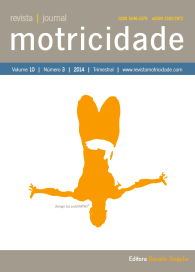 Downloads
License
The authors of submitted manuscripts must transfer the full copyright to Journal Motricidade / Desafio Singular Editions. Granting copyright permission allows the publication and dissemination of the article in printed or electronic formats and copyrights start at the moment the manuscript is accepted for publication. It also allows Journal Motricidade to use and commercialize the article in terms of licensing, lending or selling its content to indexation/abstracts databases and other entities.
According to the terms of the Creative Commons licence, authors may reproduce a reasonable number of copies for personal or professional purpose but without any economic gains. SHERPA/RoMEO allows authors to post a final digital copy (post-printing version) of the article in their websites or on their institutions' scientific repository.