Injuries among Portuguese kitesurfers: The most affected body regions A pilot study
Abstract
Aquatic sports keep rising in popularity. Kitesurfing is a high-risk sport that combines aspects of several water sports. The dangers of high-risk sports have been widely studied. Kitesurfing is a relatively new water sport, and the understanding of the injuries due to its practice has not yet been largely investigated. The purpose of this study is to investigate the most common types and causes of injuries among Portuguese kitesurfers. The data was collected using a retrospective 12 months web-based questionnaire. A total of n= 87 kitesurfers, mostly from the North, showed that 75.9% have a kitesurfing initiation course and 57.5% use protective equipment. A total of 60.9% has been injured in the 12 month's period, being the knee and the lumbar spine the most common body injury. A reasonable number of injuries occurred while performing a landing or a maneuver, being 53.9% of the injuries reported as a new injury. This 12 month's retrospective study supports earlier studies and provides basis knowledge about the incidence of Portuguese kitesurfers injuries. The data support the benefits of physical fitness (p< 0.05) in injuries prevention.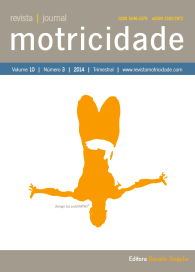 Downloads
License
The authors of submitted manuscripts must transfer the full copyright to Journal Motricidade / Desafio Singular Editions. Granting copyright permission allows the publication and dissemination of the article in printed or electronic formats and copyrights start at the moment the manuscript is accepted for publication. It also allows Journal Motricidade to use and commercialize the article in terms of licensing, lending or selling its content to indexation/abstracts databases and other entities.
According to the terms of the Creative Commons licence, authors may reproduce a reasonable number of copies for personal or professional purpose but without any economic gains. SHERPA/RoMEO allows authors to post a final digital copy (post-printing version) of the article in their websites or on their institutions' scientific repository.