Eficácia do Side-out no Voleibol sénior masculino em função do jogador interveniente
Abstract
A Análise do jogo assume particular importância no processo de preparação das equipas de Voleibol. Neste sentido, pretende-se identificar as ações de jogo na resposta ao serviço no Voleibol (denominado por side-out ou KI: receção, distribuição e ataque). A amostra foi composta por 743 ações de receção, pertencentes a 5 jogos da final do Play-off do Campeonato Nacional sénior masculino 2012-2013. Foram analisados a eficácia da receção, o jogador interveniente na receção, o tipo de serviço e zona de receção. Nos procedimentos estatísticos recorreu-se à estatística descritiva e análise de regressão logística multinominal. Os resultados mostram que o jogador que fez mais receções foi o jogador de zona 4. As receções que ocorreram na zona central distante são aqueles que fornecem mais qualidade na organização ofensiva. Já em relação ao tipo de serviço: suspensão flutuante é o que permite uma maior percentagem de receções com melhor qualidade nas opções de ataque.
No processo de formação da equipa, para aumentar a eficácia das ações de jogo em side-out, deve ser considerada uma coordenação eficaz da 1ª linha de receção através do jogador prioritário estabelecendo rotinas de regularidade, na dupla função que tem durante o jogo, ou seja receber e atacar.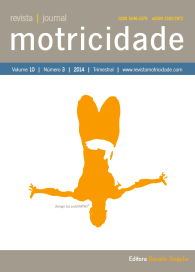 Downloads
Additional Files
License
The authors of submitted manuscripts must transfer the full copyright to Journal Motricidade / Desafio Singular Editions. Granting copyright permission allows the publication and dissemination of the article in printed or electronic formats and copyrights start at the moment the manuscript is accepted for publication. It also allows Journal Motricidade to use and commercialize the article in terms of licensing, lending or selling its content to indexation/abstracts databases and other entities.
According to the terms of the Creative Commons licence, authors may reproduce a reasonable number of copies for personal or professional purpose but without any economic gains. SHERPA/RoMEO allows authors to post a final digital copy (post-printing version) of the article in their websites or on their institutions' scientific repository.