Sensitization profile in a hospital on the north coast of Portugal
Keywords:
Allergy, allergic rhinitis, allergic sensitization, asthma
Abstract
Introduction: Skin prick tests are important in the evaluation of allergic sensitization. Besides allowing identifying the allergens involved, they are important for the implementation of environmental eviction measures and therapeutic strategies.
Objectives: To identify the sensitization profile to aeroallergens in children with asthma and/or allergic rhinitis followed in an hospital in the north coast of Portugal.
Material and Methods: A retrospective study was conducted with a review of the clinical processes of patients with asthma and/or allergic rhinitis, who performed skin prick tests from august 2012 to april 2016. The variables analyzed were: age, gender, allergic disease (asthma and/or allergic rhinitis), comorbidities and the results of the skin tests performed. The data obtained were organized using the program SPSS 20.0, for Windows. A descriptive analysis of the different variables was performed.
Results: Three hundred and twelve patients were included, aged five to 18 years, 63,5% males and 36,5% females. The diagnosis established were: allergic rhinitis in 47%, asthma in 19% and the combination of asthma and allergic rhinitis in 34% of the cases. Dermatophagoides pteronyssinus (87,5%), Lepidoglyphus destructor (70,5%) and Dermatophagoides farinae (69,9%) were the most frequent allergens, followed by wild gramineae (47,4%) and cultivated gramineae (41,3%).
Conclusions: In this study the main allergens determined by the skin tests were the mites, with high incidence of Lepidoglyphus destructor. Since immunotherapy with allergens is the only therapy directed to the cause of the allergic disease and with the potential to modify the evolution, an adequate selection of its components is essential to optimize the results. As the sensitization profile of each region depends on several variables this information allows a better diagnostic and therapeutic approach.
Downloads
Download data is not yet available.
References
European Academy of Allergy and Clinical Immunology. Position paper: a revised nomenclature for allergy. EAACI position statement. Allergy 2001; 56: 813-24.
Stokes J, Casale T. The relationship between IgE and allergic disease. 2016. Disponível em http://www.uptodate.com.
Rebollo JC, Hernández MM, Bravo MJC, Moreno ALG, Otal MPO, Guerrero TC. Valoración del estudio alérgico en niños con atopia. Ver Pediatr Aten Primaria 2010; 12: 227-37.
Vásquez CAD, García JR, Iglesias GS. Perfil de sensibilización a neumoalergenos en niños con asma y rinoconjuntivitis en una zona de salud de Asturias. Bol Pediatr 2003; 43: 3-12.
Sousa S, Fraga J, Martins V, Quaresma M. Sensibilização a ácaros num grupo de crianças atópicas do interior norte de Portugal. Acta Pediatr Port 2010; 41 (5): 201-4.
Sicherer SH, Wood RA. Allergy Testing in Childhood: Using Allergen-Specific IgE Tests. Pediatrics 2012; 129: 193-197.
Itikawa A, Mallozi MC, Wandalsen GF, Solé D. Reatividade cutânea a alergénios inalantes em crianças e adolescentes alérgicos de serviço especializado – valor do índice cutâneo. Ver Port Imunoalergologia 2014; 22 (4):257-266.
Nolte H, Kowal K, DuBuske L. Overview of skin testing for allergic disease. 2016. Disponível em http://www.uptodate.com.
Stone KD, Prussin C, Metcalfe DD. IgE, Mast Cells, Basophils, and Eosinophils. J Allergy Clin Immunol. 2010 February; 125(2 Suppl 2): S73–S80.
Heinzerling L, Mari A, Bergmann KC, Bresciani M, Burbach G, Darsow U,Durham S, Fokkens W, Gjomarkaj M, Haahtela T, Bom AT, Wöhrl S, MaibachH, Lockey R. The skin prick test – European standards. Heinzerling et al. Clinical and Translational Allergy 2013.
Rede Portuguesa de Aerobiologia: Resultados da monitorização do pólen atmosférico (2002-2006). Ver Port Imunoalergologia 2007; 15 (3): 235-250.
Thomsen SF. Epidemiology and natural history of atopic diseases. European Clinical Respiratory Journal 2015.
Bousquet et al. Allergic Rhinitis and its Impact on Asthma (ARIA): Achievements in 10 years and future needs. J Allergy Clin Immunol 2012; 130:1049-62.
Zheng T, Yu J, oh MH, Zhu Z. The atopic march: progression from atopic dermatitis to allergic rhinitis and asthma. Allergy Asthma Immunol Res. 2011 Apr; 3(2):67-73.
Ferreira MB. Imunoterapia com ácaros. Ver Port Imunoalergologia 2015; 23 (2):79-87.
Mapa acarológico. Ver Port Imunoalergologia 2009; 17 (2): 195.198.
Imunoterapia com aeroalergénios. Ver Port Imunoalergologia 2015; 23 (4):237-242.
Dias A, Soares J, Fraga J, Carvalho M, Quaresma M. Imunoterapia específica: estudo de melhoria clínica. Acta Pediatr Port 2013:44(5): 229-33.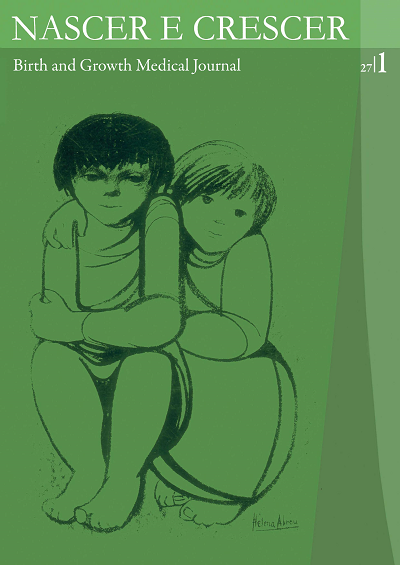 Downloads
How to Cite
1.
Branco M, Gonçalves V, Ribeiro-Mourão F, Ramos Ferreira A, Martins S, Araújo AR. Sensitization profile in a hospital on the north coast of Portugal. REVNEC [Internet]. 2018Apr.13 [cited 2023Oct.1];27(1):27-32. Available from: https://revistas.rcaap.pt/nascercrescer/article/view/10563
Section
Original Articles
License
Copyright and access
This journal offers immediate free access to its content, following the principle that providing free scientific knowledge to the public provides greater global democratization of knowledge.
The works are licensed under a Creative Commons Attribution Non-commercial 4.0 International license.
Nascer e Crescer – Birth and Growth Medical Journal do not charge any submission or processing fee to the articles submitted.