Rhino-orbital-cerebral mucormycosis in a pediatric cancer patient
Keywords:
antifungal, encephalitis, mucormycosis, osteomyelitis,  Rhizopus sp
Abstract
Aim: Mucormycosis infections are highly lethal in immunosuppressed patients. The authors present a rare case of successful treatment of the condition.
Case description: A 14-year-old male with acute lymphoblastic lymphoma in remission was diagnosed with pansinusitis, cerebral osteomyelitis, and encephalitis with an abscess caused by Rhizopus sp. Neurosurgical drainage, endoscopic sinus surgery, and left eye enucleation were performed, and the patient was simultaneously treated with lipossomal-amphotericin B and posaconazol (later replaced by isavuconazol). However, complications (left frontal lobe herniation and cerebrospinal fluid fistula) ensued, requiring surgical reoperation. Chemotherapy was restarted four months later.
Comments: This is a rare case report, in which early and aggressive surgery, antifungal treatment, and multidisciplinary team work were crucial for the successful outcome.
Downloads
Download data is not yet available.
References
Paknezhad H, Borchard NA, Charville GW, Ayoub NF, Choby GW, Thamboo A, et al. Evidence for a 'preinvasive' variant of fungal sinusitis: Tissue invasion without angioinvasion. World Journal of Otorhinolaryngology - Head and Neck Surgery. 2017;3:37–43.
Deshazo RD. Syndromes of invasive fungal sinusitis. Medical Mycology. 2009;47:S309-14.
Góralska K, Blaszkowska J, Dzikowiec M. Neuroinfections caused by fungi. Infection. 2018;46:443-59.
Skiada A, Lanternier F, Groll AH, Pagano L, Zimmerli S, Herbrecht R, et al. Diagnosis and treatment of mucormycosis in patients with hematological malignancies: guidelines from the 3rd European Conference on Infections in Leukemia (ECIL 3). Haematologica. 2013;98:492–504.
Sabino R, Verissímo C, Brandão J, Martins C, Alves D, Pais C, et al. Serious fungal infections in Portugal. European Journal of Clinical Microbiology and Infectious Diseases. 2017;36:1345-52.
Ferguson B. Mucormycosis of the nose and paranasal sinuses. Otolaryngol Clin North Am. 2000;33:349-65.
Cornely OA, Arikan-Akdagli S, Dannaoui E, Groll AH, Lagrou K, Chakrabarti A, et al. ESCMID and ECMM joint clinical guidelines for the diagnosis and management of mucormycosis 2013. Clinical Microbiology and Infection. 2014;20:5–26.
Tissot F. Agrawal S, Pagano L, Petrikkos G, Groll AH, Skiada A, et al. ECIL-6 guidelines for the treatment of invasive candidiasis, aspergillosis and mucormycosis in leukemia and hematopoietic stem cell transplant patients. Haematologica. 2017;102:433-44.
Avet. J, Kline LB, Sillers MJ. Endoscopic sinus surgery in the management of mucormycosis. Neuropathology. 1999;19:56-61.
Santos Gorjón P, Blanco Pérez P, Batuecas Caletrío A, Muñoz Herrera AM, Sánchez González F, de la Fuente Cañibano R. Rhino-orbito-cerebral mucormycosis, a retrospective study of 7 cases. Acta Otorrinolaringologica Española. 2010;61:48-53.
Chen CY, Sheng WH, Cheng A, Chen YC, Tsay W, Tang JL, et al. Invasive fungal sinusitis in patients with hematological malignancy: 15 years experience in a single university hospital in Taiwan. BMC Infectious Diseases. 2011;11:250.
Garlapati K, Chavva S, Vaddeswarupu RM, Surampudi J. Fulminant Mucormycosis Involving Paranasal Sinuses: A Rare Case Report. Case Reports in Dentistry. 2014:465919.
Steve AK, Hurdle VA, Brown JY. Orbitomaxillofacial Mucormycosis Requiring Complex Multifactorial Management. Orbitomaxillofacial Mucormycosis. 2018;6:e1927.
Haliloglu NU, Yesilirmak Z, Erden A, Erden I. Rhino-orbito-cerebral mucormycosis: report of two cases and review of the literature. Dentomaxillofacial Radiology. 2008;37:161–6.
Kerezoudis P, Watts CR, Bydon M, Dababneh AS, Deyo CN, Frye JM, et al. Diagnosis and Treatment of Isolated Cerebral Mucormycosis: Patient-Level Data Meta-Analysis and Mayo Clinic Experience. World Neurosurgery. 2019;123:425-34.
Bae MS, Kim EJ, Lee KM, Choi WS. Rapidly Progressive Rhino-orbito-cerebral Mucormycosis Complicated with Unilateral Internal Carotid Artery Occlusion: A Case Report. Neurointervention. 2012;7:45-9.
Prabhu S, Alqahtani M, Al Shehabi M. A fatal case of rhinocerebral mucormycosis of the jaw after dental extractions and review of literature. Journal of Infection and Public Health. 2018;11:301-3.
Sharma RR, Pawar SJ, Delmendo A, Lad SD, Athale SD. Fatal rhino-orbito-cerebral mucormycosis in an apparently normal host: case report and literature review. Journal of Clinical Neuroscience. 2001;8:583-6.
Jeevanan J, Gendeh BS, Faridah HA, Vikneswaran T. Rhino-orbito-cerebral mucormycosis: a treatment dilemma. Medical Journal of Malaysia. 2006; 61:6.
Simmons JH, Zeitler PS, Fenton LZ, Abzug MJ, Fiallo-Scharer RV, Klingensmith GJ. Rhinocerebral mucormycosis complicated by internal carotid artery thrombosis in a pediatric patient with type 1 diabetes mellitus: a case report and review of the literature. Pediatric Diabetes. 2005;6:234–8.
Zafar S, Prabhu A. Rhino-orbito-cerebral mucormycosis: recovery against the odds. Practical Neurology. 2017;17:485–8.
Barg AA, Malkiel S, Bartuv M, Greenberg G, Toren A, Keller N. Successful treatment of invasive mucormycosis with isavuconazole in pediatric patients. Pediatric Blood Cancer. 2018;65:e27281.
Miceli MH, Kauffman CA. Isavuconazole: A New Broad-Spectrum Triazole Antifungal Agent. Clinical Infectious Diseases. 2015; 15;61:1558-65.
Marty FM, Ostrosky-Zeichner L, Cornely OA, Mullane KM, Perfect JR, Thompson GR, et al. Isavuconazole treatment for mucormycosis: a single-arm open-label trial and case-control analysis. Lancet Infectious Diseases. 2016;16:828-37.
Shirley M, Scott LJ. Isavuconazole: A Review in Invasive Aspergillosis and Mucormycosis. Drugs. 2016;76:1647-57.
Ferreira IS, Teixeira G, Abecasis M. Alternaria alternata Invasive Fungal Infection in a Patient with Fanconi's Anemia after an Unrelated Bone Marrow Transplant. Clinical Drug Investigation. 2013;33:S33–6.
Athanasiadou KI, Athanasiadis DI, Constantinidis J, Anastasiou A, Roilides E, Papakonstantinou E. Successful treatment of rhinoorbital mucormycosis due to Rhizopus arrhizus with liposomal amphotericin B, posaconazole and surgical debridement in a child with neuroblastoma. Medical Mycology Case Reports. 2019;25:10-4.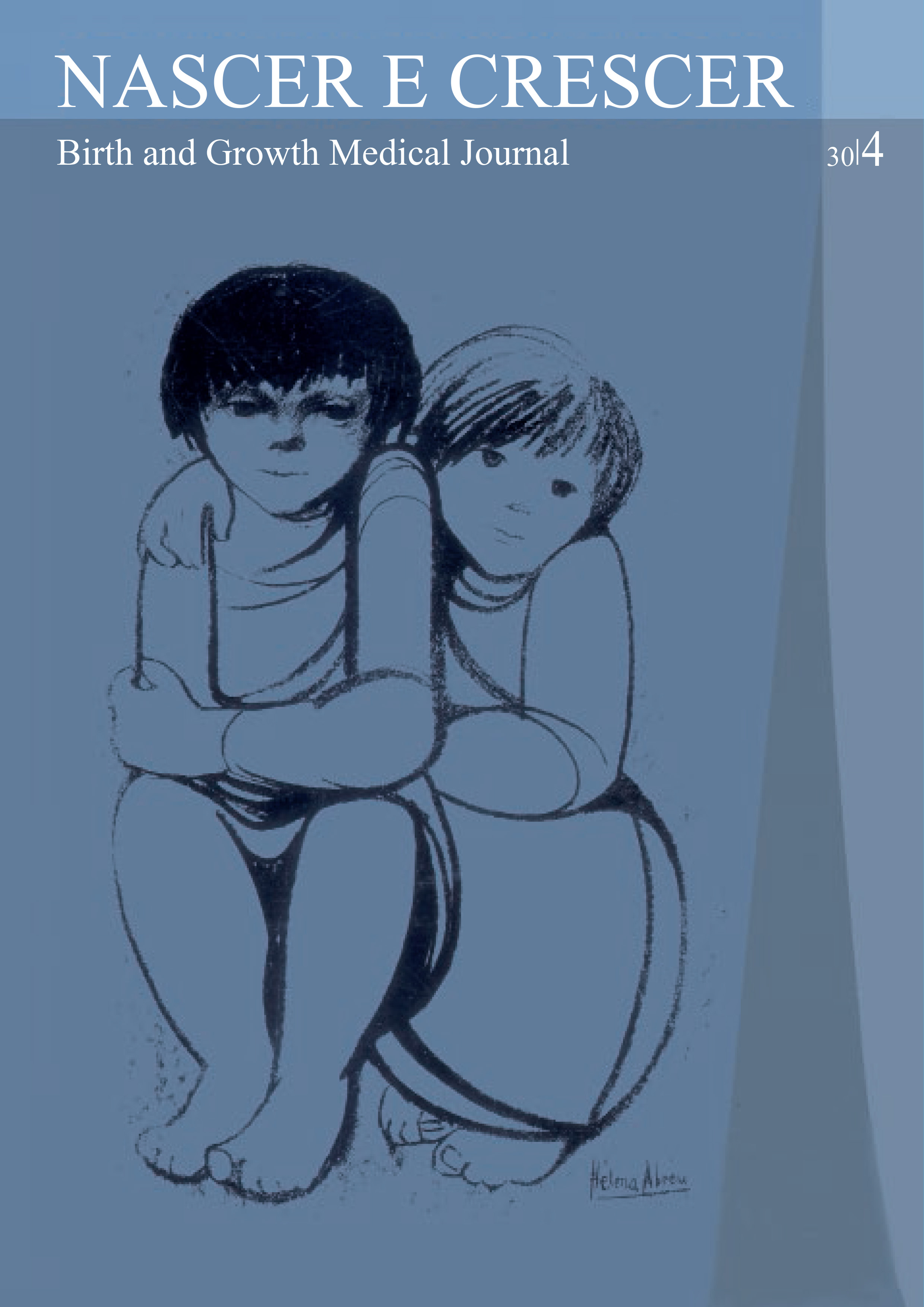 Downloads
How to Cite
1.
Couto ME, Oliva T, Alberto P, Lebre A, Pinto A, Maia Ferreira A. Rhino-orbital-cerebral mucormycosis in a pediatric cancer patient. REVNEC [Internet]. 2021Dec.27 [cited 2022May21];30(4):241-5. Available from: https://revistas.rcaap.pt/nascercrescer/article/view/19758
License
Copyright (c) 2021 Maria Eduarda Couto, Tereza Oliva, Pedro Alberto, Ana Lebre, Armando Pinto, Ana Maia Ferreira
This work is licensed under a Creative Commons Attribution-NonCommercial 4.0 International License.
Copyright and access
This journal offers immediate free access to its content, following the principle that providing free scientific knowledge to the public provides greater global democratization of knowledge.
The works are licensed under a Creative Commons Attribution Non-commercial 4.0 International license.
Nascer e Crescer – Birth and Growth Medical Journal do not charge any submission or processing fee to the articles submitted.