Cardiovascular care in cancer patients
Downloads
Download data is not yet available.
References
Kleinmahon JA, Landeck BF. Evaluation and Long-Term Outcomes of Cardiac Toxicity in Paediatric Cancer Patients. In: Karen Wonders, Brittany Stout editors. Pediatric Cancer Survivors. Croatia; 2017. p. 65-78. doi:10.5772/67043.
Shankar SM, Marina N, Hudson MM, Hodgson DC, Adams MJ, Landier W, et al. Monitoring for cardiovascular disease in survivors of childhood cancer: report from the Cardiovascular Disease Task Force of the Children's Oncology Group. Pediatrics 2008; 121:e387-96.
de Ferranti SD, Steinberger J, Ameduri R, Baker A, Gooding H, Kelly AS, et al. Cardiovascular Risk Reduction in High-Risk Pediatric Patients: A Scientific Statement from the American Heart Association. Circulation 2019; 139:e603-34.
Children's Oncology Group. Long-Term Follow-Up Guidelines for Survivors of Childhood, Adolescent, and Young Adult Cancers, Version 5.0. Monrovia, CA: Children's Oncology Group. October 2018. Disponível em: http:// www.survivorshipguidelines.org/.
Westerink NL, Nuver J, Lefrandt JL, Vrieling AH, Gietema JA, Walenkamp AME, et al. Cancer treatment induced metabolic syndrome: Improving outcome with lifestyle. Crit Rev Oncol Hematol. 2016; 108:128-36. doi:10.1016/j.critrevonc.2016.10.011.
Lipshultz SE, Adams MJ, Colan SD, Constine LS, Herman EH, Hsu DT, et al. Long‐term cardiovascular toxicity in children, adolescents, and young adults who receive cancer therapy: pathophysiology, course, monitoring, management, prevention, and research directions: a scientific statement from the American Heart Association. Circulation. 2013; 128:1927-95. doi:10.1161/CIR.0b013e3182a88099.
Ryan TD, Nagarajan R, Godown J. Cardiovascular Toxicities in Pediatric Cancer Survivors. Cardiol Clin. 2019; 37:533–44. doi:10.1016/j.ccl.2019.07.002.
I Diretriz Brasileira de Cardio-Oncologia Pediátrica da Sociedade Brasileira de Cardiologia. Arq Bras Cardiol. 2013; 100:1-68.
Armenian SH, Hudson MM, Mulder RL, Chen MH, Constine, LS, Dwyer M, et al. Recommendations for cardiomyopathy surveillance for survivors of childhood cancer: a report from the International Late Effects of
Childhood Cancer Guideline Harmonization Group. Lancet Oncol. 2015; 16:e123–36. doi:10.1016/S1470-2045(14)70409-7.
Armstrong GT, Oeffinger KC, Chen Y, Kawashima T, Yasui Y, Leisenring W, Stovall M, et al. Modifiable risk factors and major cardiac events among adult survivors of childhood cancer. J Clin Oncol. 2013; 31:3673–80. doi:10.1200/JCO.2013.49.3205.
Wong FL, Bhatia S, Landier W, Francisco L, Leisenring W, Hudson MM, et al. Cost-effectiveness of the children's oncology group long-term follow-up screening guidelines for childhood cancer survivors at risk for treatment-related heart failure. Ann Intern Med. 2014; 160:672–83. doi:10.7326/M13-2498.
Wolf CM, Reiner B, Kühn A, Hager A, Müller J, Meierhofer C, et al. Subclinical Cardiac Dysfunction in Childhood Cancer Survivors on 10-Years Follow-Up Correlates with Cumulative Anthracycline Dose and Is Best Detected by Cardiopulmonary Exercise Testing, Circulating Serum Biomarker, Speckle Tracking Echocardiography, and Tissue Doppler Imaging. Front Pediatr. 2020; 8:123-34. doi:10.3389/fped.2020.00123.
Sieswerda E, Postma A, van Dalen EC, van der Pal HJH, Tissing WJE, Rammeloo LAJ, et al. The Dutch Childhood Oncology Group guideline for follow-up of asymptomatic cardiac dysfunction in childhood cancer survivors. Ann Oncol. 2012; 23:2191–98. doi:10.1093/annonc/mdr595.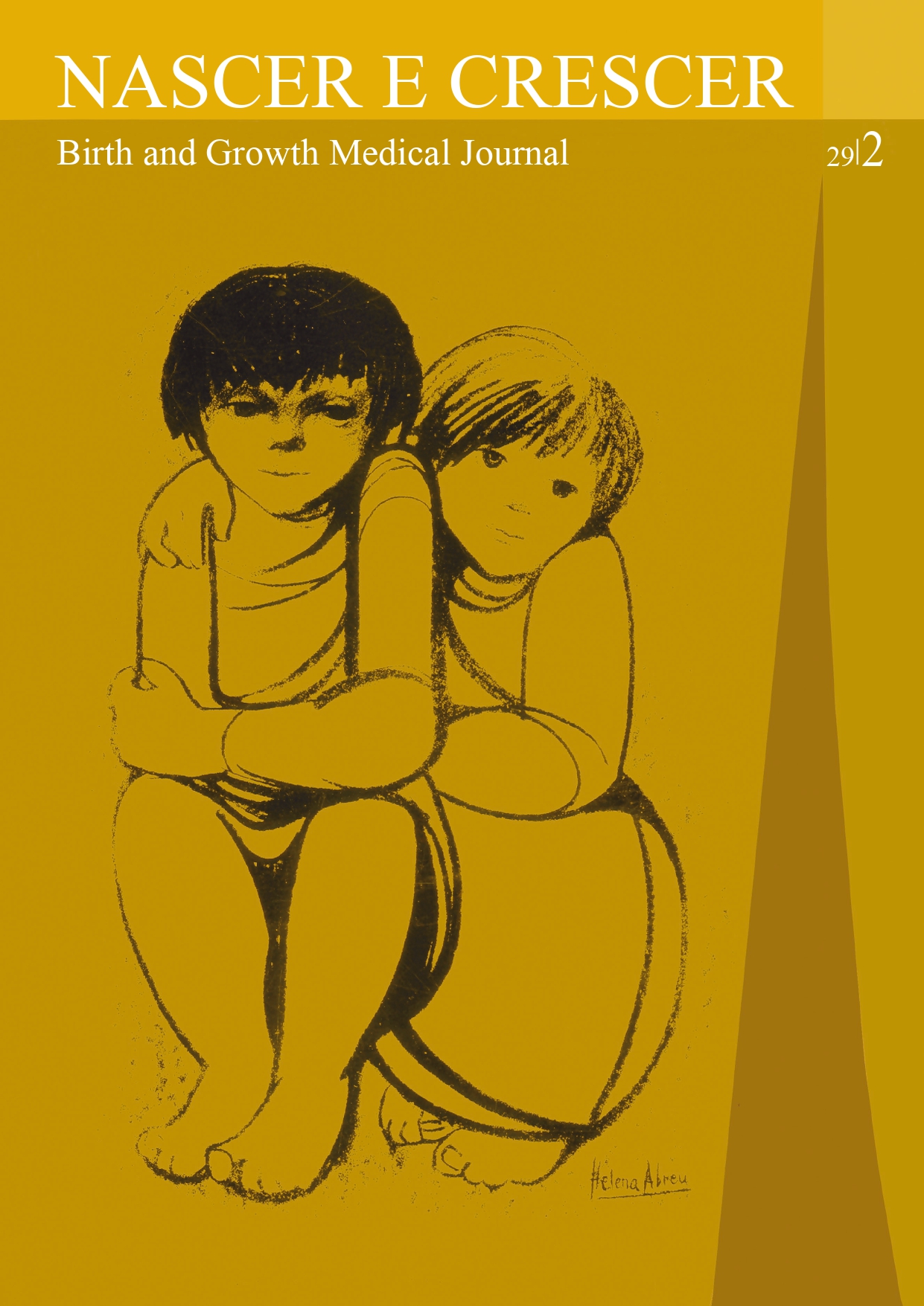 Downloads
How to Cite
1.
Álvares S. Cardiovascular care in cancer patients. REVNEC [Internet]. 2020Jun.26 [cited 2023Mar.27];29(2):75-7. Available from: https://revistas.rcaap.pt/nascercrescer/article/view/20440
License
Copyright and access
This journal offers immediate free access to its content, following the principle that providing free scientific knowledge to the public provides greater global democratization of knowledge.
The works are licensed under a Creative Commons Attribution Non-commercial 4.0 International license.
Nascer e Crescer – Birth and Growth Medical Journal do not charge any submission or processing fee to the articles submitted.