ECOCARDIOGRAFIA FETAL E SUA ACUIDADE DIAGNÓSTICA – CMIN 2014
Abstract
Introdução: As cardiopatias congénitas (CC) são as malformações fetais mais comuns, com uma incidência de 5 a 10 por 1000 nados vivos, associando-se a significativa morbimortalidade. O diagnóstico pré-natal destas anomalias através da ecocardiografia fetal permite aos pais obter informação prognóstica e de tratamento previamente ao nascimento e aos profissionais planear a atuação obstétrica e pós-natal mais adequadas.
Objetivos: Analisar a incidência de CC nos fetos e recém-nascidos da nossa instituição durante o ano de 2014. Analisar a sensibilidade e especificidade da ecocardiografia fetal no diagnóstico de CC. Metodologia: Foram avaliadas as ecocardiografias fetais e neonatais realizadas durante o ano de 2014 na nossa instituição. Em cada caso, foi analisada a indicação para a realização deste exame, os diagnósticos pré e pós-natais.
Resultados: Foram realizadas 877 ecocardiografias fetais em 657 grávidas durante o ano de 2014, tendo sido referenciados 157 casos para avaliação pós-natal. A principal indicação para a realização de ecocardiografia fetal foi avaliação cardíaca tecnicamente difícil na ecografia obstétrica, seguida de suspeita de anomalia cardíaca. Registaram-se 39 casos de suspeita pré-natal de anomalia cardíaca, entre estes, 24 falsos positivos. As CC detectadas foram 15: comunicação interventricular (CIV) (3), anomalias do arco aórtico (4, incluindo 1 caso de coarctação da aorta), truncus arteriosus (1), transposição dos grandes vasos (1), estenose valvular pulmonar (2) e outras (4). Os falsos positivos corresponderam a CIV (14) (idade gestacional ao diagnóstico 28-36 semanas) e suspeita de anomalias do arco aórtico (4), sendo os restantes alterações minor. Houve ainda 4 casos falsos negativos (CIVs, um destes com comunicação interauricular tipo ostium primum associada). Neste período foram diagnosticadas 55 CC em 2850 nados vivos, correspondendo a uma incidência global de 19.3‰. A sensibilidade da ecocardiografia fetal foi 78.9% e a sua especificidade 96%.
Conclusão: A detecção pré-natal de CC mantém-se um dos maiores desafios em DPN. A ecocardiografia fetal registou eleva- da sensibilidade e especificidade. Os falsos negativos encontra- dos corresponderam a CC simples. A elevada incidência de CC poderá ser explicada por constituirmos um centro de referência materno-infantil de alto risco. A ecocardiografia fetal é fundamental no diagnóstico pré-natal de CC, permitindo o aconselhamento ao casal e a orientação e planeamento dos cuidados perinatais.
Downloads
Download data is not yet available.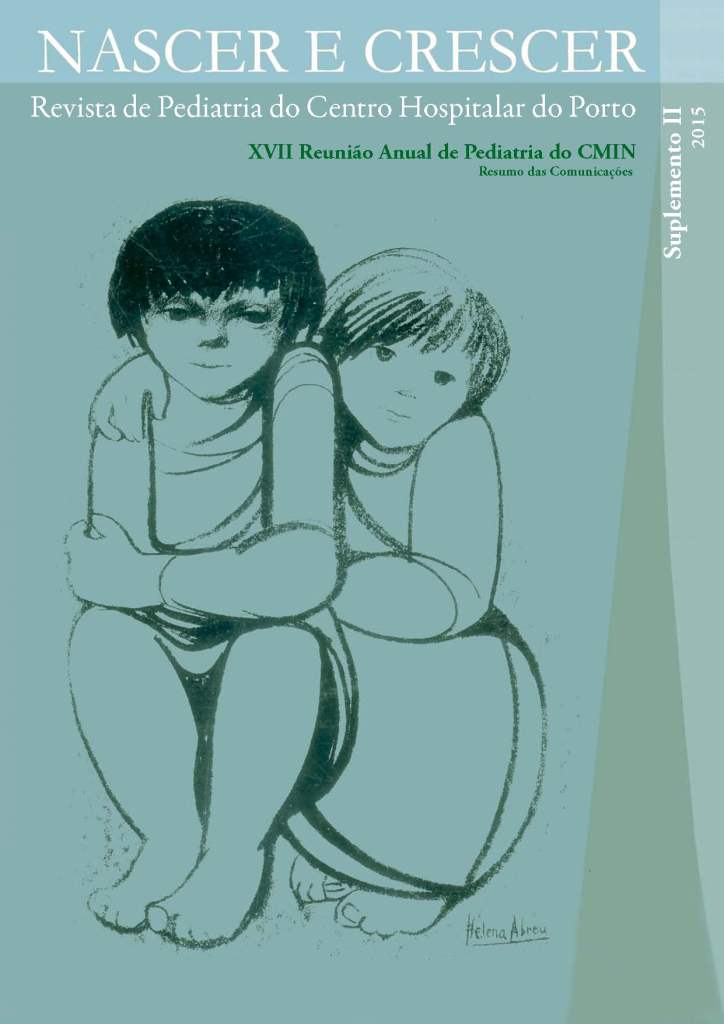 Downloads
How to Cite
1.
Alencoão I, Inocêncio G, Mendes MJ, Guedes A, Proença E, Álvares S, Rodrigues M do C, Braga J. ECOCARDIOGRAFIA FETAL E SUA ACUIDADE DIAGNÓSTICA – CMIN 2014. REVNEC [Internet]. 2016Jul.7 [cited 2022Sep.30];24:S13. Available from: https://revistas.rcaap.pt/nascercrescer/article/view/9433
Section
Resumo das comunicações orais
License
Copyright and access
This journal offers immediate free access to its content, following the principle that providing free scientific knowledge to the public provides greater global democratization of knowledge.
The works are licensed under a Creative Commons Attribution Non-commercial 4.0 International license.
Nascer e Crescer – Birth and Growth Medical Journal do not charge any submission or processing fee to the articles submitted.