Incomplete Kawasaki disease presenting as complicated acute tonsillitis
Keywords:
mucocutaneous lymph node syndrome, retropharyngeal abscess, tonsillitis
Abstract
Introduction: Kawasaki disease (KD) is one of the most common vasculitides in childhood and may cause serious complications, namely coronary artery aneurism (CAA). KD may initially present with fever and otorhinolaryngological manifestations only, which may be misdiagnosed as deep neck infections.
Case report: A four-year-old female was admitted for complicated acute tonsillitis. Cervical computed tomography suggested an early retropharyngeal abscess. She received intravenous antibiotics and underwent two surgical procedures, without improvement. On day ten of fever, non-specific generalized rash and hand edema were noted, raising suspicion of incomplete KD. Echocardiogram revealed CAA. The girl was treated with intravenous immunoglobulin and corticosteroids, with clinical and laboratory improvement and CAA rapid and persistent resolution.
Discussion: Suspected complicated tonsillitis failing to respond to adequate treatment should raise suspicion of KD. Prompt treatment is critical to reducing cardiovascular sequelae. Two to three clinical criteria with supplemental laboratory criteria or a positive echocardiogram confirm the diagnosis of incomplete KD.
Downloads
Download data is not yet available.
References
Newburger JW, Takahashi M, Gerber MA, Gewitz MH, Tani LY, Burns JC, et al. Diagnosis, treatment, and long-term management of Kawasaki disease: A statement for health professionals from the committee on rheumatic fever, endocarditis, and Kawasaki disease, council on cardiovascular disease in the young, American Heart Association. Pediatrics 2004; 114(6): 1708-33.
Ramphul K, Mejias SG. Kawasaki disease: a comprehensive review. Arch Med Sci - Atheroscler Dis 2018; 3: e41-e45.
Kushner HI, Bastian JF, Turner CL, Burns JC. The two emergences of kawasaki syndrome and the implications for the developing world. Pediatr Infect Dis J 2008; 27(5): 377-83.
McCrindle BW, Rowley AH, Newburger JW, Burns JC, Bolger AF, Gewitz M, et al. Diagnosis, treatment, and long-term management of Kawasaki disease: A scientific statement for health professionals from the American Heart Association. Circulation 2017; 135(17):e927-e999.
Minich LLA, Sleeper LA, Atz AM, McCrindle BW, Lu M, Colan SD, et al. Delayed diagnosis of Kawasaki disease: What are the risk factors? Pediatrics 2007; 120(6): e1434-40.
Sonobe T, Kiyosawa N, Tsuchiya K, Aso S, Imada Y, Imai Y, et al. Prevalence of coronary artery abnormality in incomplete Kawasaki disease. Pediatr Int 2007; 49(4): 421-6.
Harris JP, Weisman MH. Head and neck manifestations of systemic disease. Med Clin North Am 2007; 102(6): 1095-1107.
Rouault M, Coudert A, Hermann R, Gillet Y, Truy E, Ayari-Khalfallah S. Otorhinolaryngological manifestations and delayed diagnosis in Kawasaki disease. Int J Pediatr Otorhinolaryngol 2019; 121: 137-142.
Flynn JT, Kaelber DC, Baker-Smith CM, Blowey D, Carroll AE, Daniels SR, et al. Clinical practice guideline for screening and management of high blood pressure in children and adolescents. Pediatrics 2017; 140(3): e20171904.
Kanegaye JT, Van Cott E, Tremoulet AH, Salgado A, Shimizu C, Kruk P, et al. Lymph-node-first presentation of kawasaki disease compared with bacterial cervical adenitis and typical kawasaki disease. J Pediatr 2013; 162(6):1259-63.
Nomura O, Hashimoto N, Ishiguro A, Miyasaka M, Nosaka S, Oana S, et al. Comparison of patients with Kawasaki disease with retropharyngeal edema and patients with retropharyngeal abscess. Eur J Pediatr 2014; 173(3): 381-6.
Sasaki T, Miyata R, Hatai Y, Makita K, Tsunoda K. Hounsfield unit values of retropharyngeal abscess-like lesions seen in Kawasaki disease. Acta Otolaryngol 2014; 134(4): 437-40.
Tona R, Shinohara S, Fujiwara K, Kikuchi M, Kanazawa Y, Kishimoto I, et al. Risk factors for retropharyngeal cellulitis in Kawasaki disease. Auris Nasus Larynx 2014; 41(5): 455-8.
Chen S, Dong Y, Yin Y, Krucoff MW. Intravenous immunoglobulin plus corticosteroid to prevent coronary artery abnormalities in Kawasaki disease: A meta-analysis. Vol. 99, Heart 2013; 99(2): 76-82.
Dhanrajani A, Yeung RSM. Revisiting the role of steroids and aspirin in the management of acute Kawasaki disease. Curr Opin Rheumatol 2017; 29(5):547-552.
Tirelli F, Marrani E, Giani T, Cimaz R. One year in review: Kawasaki disease. Curr Opin Rheumatol 2020; 32(1): 15-20.
European Centre for Disease Prevention and Control. Paediatric inflammatory multisystem syndrome and SARS-CoV-2 infection in children. ECDC 2020.
Ramcharan T, Nolan O, Lai CY, Prabhu N, Krishnamurthy R, Richter AG, et al. Paediatric Inflammatory Multisystem Syndrome: Temporally Associated with SARS-CoV-2 (PIMS-TS): Cardiac Features, Management and Short-Term Outcomes at a UK Tertiary Paediatric Hospital. Pediatr Cardiol 2020; 41(7): 1391-1401.
Harwood R, Allin B, Jones CE, Whittaker E, Ramnarayan P, Ramanan A, et al. A national consensus management pathway for Paediatric Inflammatory Multisystem Syndrome - Temporally associated with SARS-CoV-2 (PIMS-TS): The results of a national Delphi process. Lancet Child Adolesc Health 2020; 5(2):133-141.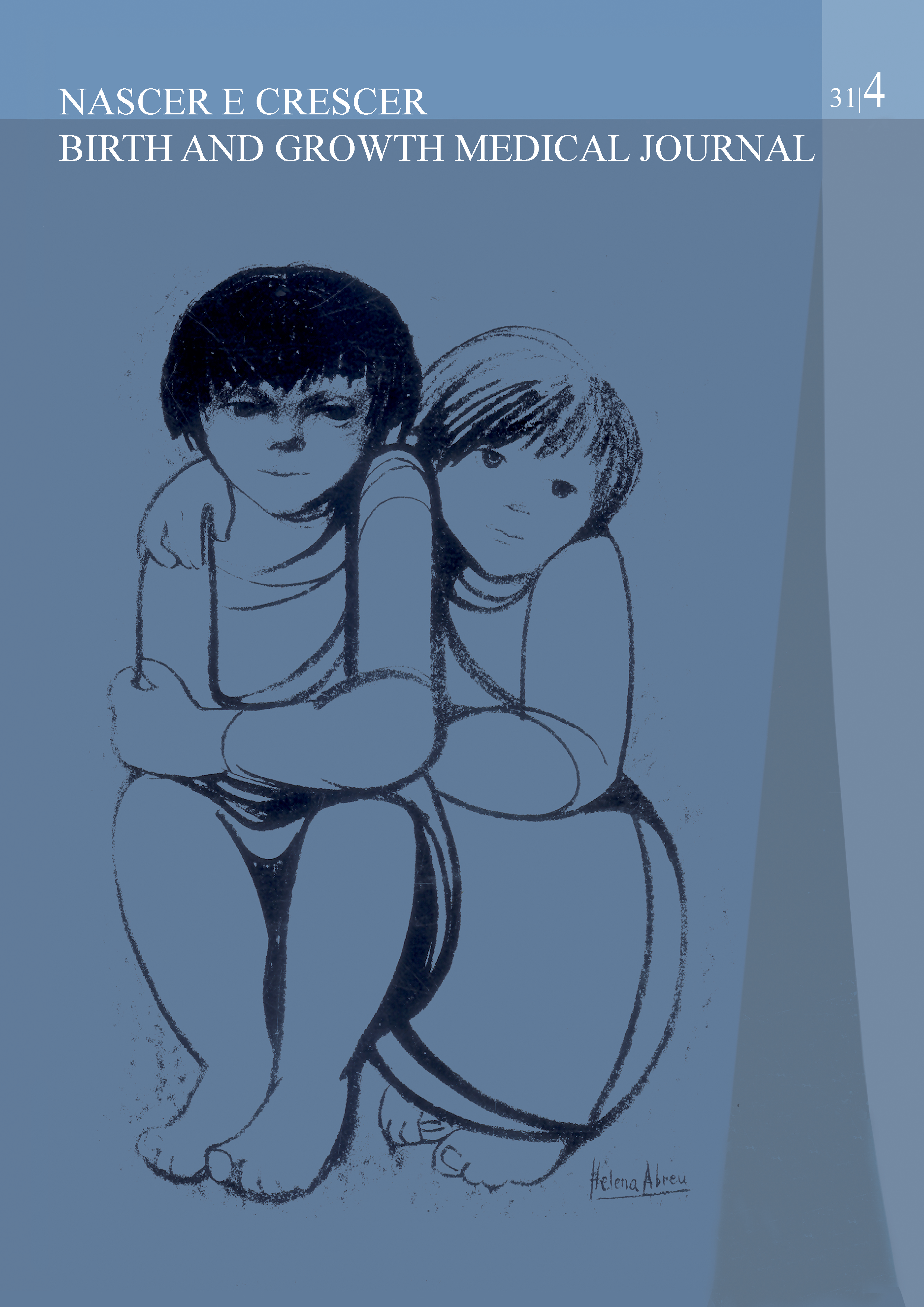 Downloads
How to Cite
1.
Pissarra R, Amorim R, Catarino S, Marques J, Rodrigues M, Tavares M, Brito I. Incomplete Kawasaki disease presenting as complicated acute tonsillitis. REVNEC [Internet]. 2022Dec.27 [cited 2023Jun.1];31(4):377-81. Available from: https://revistas.rcaap.pt/nascercrescer/article/view/23745
License
Copyright (c) 2022 Rita Pissarra
This work is licensed under a Creative Commons Attribution-NonCommercial 4.0 International License.
Copyright and access
This journal offers immediate free access to its content, following the principle that providing free scientific knowledge to the public provides greater global democratization of knowledge.
The works are licensed under a Creative Commons Attribution Non-commercial 4.0 International license.
Nascer e Crescer – Birth and Growth Medical Journal do not charge any submission or processing fee to the articles submitted.