Vitamin D levels in pregnant women in southern Brazil during Summer and Winter
Keywords:
deficiency, hypovitaminosis, insufficiency, pregnancy, vitamin D deficiency
Abstract
Objective: To evaluate serum vitamin D levels and respective seasonality in pregnant women in southern Brazil.
Methods: This was an analytical prospective cross-sectional study set at prenatal outpatient clinics of two public teaching hospitals. A total of 520 pregnant women were included, 256 in the Summer and 264 in the Winter of 2016. Women were divided into a high-risk group of patients with preeclampsia, gestational diabetes mellitus, or human immunodeficiency virus seropositivity, and a low-risk group of disease-free patients. Sociodemographic, epidemiologic, and clinical data were collected, and blood was sampled for assessment of vitamin D levels. Serum 25 hydroxyvitamin D levels were measured by chemiluminescence.
Results: The mean serum vitamin D levels were 22.5 ± 8.70 ng/mL in the high-risk group and 56.2 ± 21.75 nmol/L in the low-risk group, with significantly higher levels in Summer (26.7 ± 7.80 ng/mL and 66.7 ± 19.50 nmol/L, respectively) compared with Winter (18.3 ± 7.50 ng/mL and 45.7 ± 18.75 nmol/L, respectively; p <0.001). The prevalence of hypovitaminosis D was 69.9% in Summer and 91.3% in Winter (p <0.001). Both groups had a significantly higher prevalence of hypovitaminosis D in Winter compared to Summer (high-risk group, 92.4% vs. 71.2%, p <0.001; low-risk group, 87.0% vs. 64.7 p <0.011%).
Conclusion: A high prevalence of hypovitaminosis D was found in this cohort of pregnant women, particularly during Winter, raising awareness of the need to recommend adequate nutrition through a healthy and balanced diet and adequate sun exposure in prenatal care.
Downloads
Download data is not yet available.
References
Mulligan ML, Felton SK, Riek AE, Bernal-Mizrachi C. Implications of vitamin D deficiency in pregnancy and lactation. Am J Obstet Gynecol. 2010;202(5):429.e1-9.
Jones G. Pharmacokinetics of vitamin D toxicity. Am J Clin Nutr. 2008 Aug;88(2):582S-586S.
Tabesh M, Salehi-Abargouei A, Tabesh M, Esmaillzadeh A. Maternal Vitamin D Status and Risk of Pre-Eclampsia: A Systematic Review and Meta-Analysis. J Clin Endocrinol Metab. 2013;98(8):3165–73.
Aghajafari F, Nagulesapillai T, Ronksley PE, Tough SC, O'Beirne M, Rabi DM. Association between maternal serum 25-hydroxyvitamin D level and pregnancy and neonatal outcomes: systematic review and meta-analysis of observational studies. B M J. 2013;346:f1169.
Wei S-Q, Qi H-P, Luo Z-C, Fraser WD. Maternal vitamin D status and adverse pregnancy outcomes: a systematic review and meta-analysis. J Matern Fetal Neonatal Med. 2013;26(9):889–99.
De-Regil LM, Palacios C, Ansary A, Kulier R, Pena-Rosas JP. Vitamin D supplementation for women during pregnancy. Cochrane database Syst Rev. 2012; 2(2):Cd008873.
Hyppönen E, Cavadino A, Williams D, Fraser A, Vereczkey A, Fraser WD, et al. Vitamin D and Pre-Eclampsia: Original data, systematic review and meta-analysis. Ann Nutr Metab. 2014; 63(4): 331–40.
Bodnar LM, Platt RW, Simhan HN. Early-Pregnancy Vitamin D Deficiency and Risk of Preterm Birth Subtypes. Obstet Gynecol. 2015;125(2):1–9.
Miller J, Gallo RL. Vitamin D and innate immunity. Dermatol Ther. 2010;23(1):13–22.
Saraiva GL, Cendoroglo MS, Ramos LR, Araújo LMQ, Vieira JGH, Maeda SS, et al. Prevalence of vitamin D deficiency, insufficiency and secondary hyperparathyroidism in the elderly inpatients and living in the community of city of São Paulo, Brazil. Arq Bras Endocrinol Metabol. 2007;51(3):437–42.
Lopes JB, Danilevicius CF, Takayama L, Caparbo VF, Scazufca M, Bonfá E, et al. Vitamin D insufficiency: A risk factor to vertebral fractures in community-dwelling elderly women. Maturitas. 2009;64(4):218–22.
Fitzpatrick TB. The validity and practicality of sun-reactive skin types I through VI. Arch Dermatol. 1988;124(6):869–71.
Holick MF, Binkley NC, Bischoff-Ferrari HA, Gordon CM, Hanley DA, Heaney RP, et al. Evaluation, treatment, and prevention of vitamin D deficiency: an Endocrine Society clinical practice guideline. J Clin Endocrinol Metab. 2011;96(7):1911–30.
Holick MF. Vitamin D Deficiency. N Engl J Med. 2007;357(3):266–81.
Palacios C, Gonzalez L. Is vitamin D deficiency a major global public health problem? J Steroid Biochem Mol Biol. 2014;144(PART A):138–45.
Nicolaidou P, Hatzistamatiou Z, Papadopoulou A, Kaleyias J, Floropoulou E, Lagona E, et al. Low vitamin D status in mother-newborn pairs in Greece. Calcif Tissue Int. 2006;78(6):337–42.
O'Riordan MN, Kiely M, Higgins JR, Cashman KD. Prevalence of suboptimal vitamin D status during pregnancy. Ir Med J. 2008;101(8):240, 242–3.
Sloka S, Stokes J, Randell E, Newhook LA. Seasonal variation of maternal serum vitamin D in Newfoundland and Labrador. J Obstet Gynaecol Can. 2009;31(4):313–21.
Department of Health. Departmental Report 2009: The Health and Personal Social Services Programmes. 2009.
Godel JC, Canadian Paediatrics Society First Nations, Inuit and Métis Health Committee. Vitamin D supplementation: Recommendations for Canadian mothers and infants. Paediatr Child Heal. 2007;12(7):583–9.
WHO antenatal care recommendations for a positive pregnancy experience. Nutritional interventions update: Multiple micronutrient supplements during pregnancy. Geneva: World Health Organization; 2020. Licence: CC BY-NC-SA 3.0 IGO.
Dawson-Hughes B, Mithal A, Bonjour JP, Boonen S, Burckhardt P, Fuleihan GEH, et al. IOF position statement: Vitamin D recommendations for older adults. Osteoporos Int. 2010;21(7):1151–4.
Utiger RD. The need for more vitamin D. N Engl J Med. 1998;338(12):828–9.
Sahu M, Das V, Aggarwal A, Rawat V, Saxena P, Bhatia V. Vitamin D replacement in pregnant women in rural north India: a pilot study. Eur J Clin Nutr. 2009;63(9):1157–9.
Yu CKH, Sykes L, Sethi M, Teoh TG, Robinson S. Vitamin D deficiency and supplementation during pregnancy. Clin Endocrinol (Oxf). 2009;70(5):685–90.
Maeda SS, Borba VZC, Camargo MBR, Silva DMW, Borges JLC, Bandeira F, et al. Recommendations of the Brazilian Society of Endocrinology and Metabology (SBEM) for the diagnosis and treatment of hypovitaminosis D. Arq Bras Endocrinol Metabol. 2014;58(5):411–33.
Holick FM. Vitamin D Deficiency. N Engl J Med. 2007 Jul 19;357(3):266-81.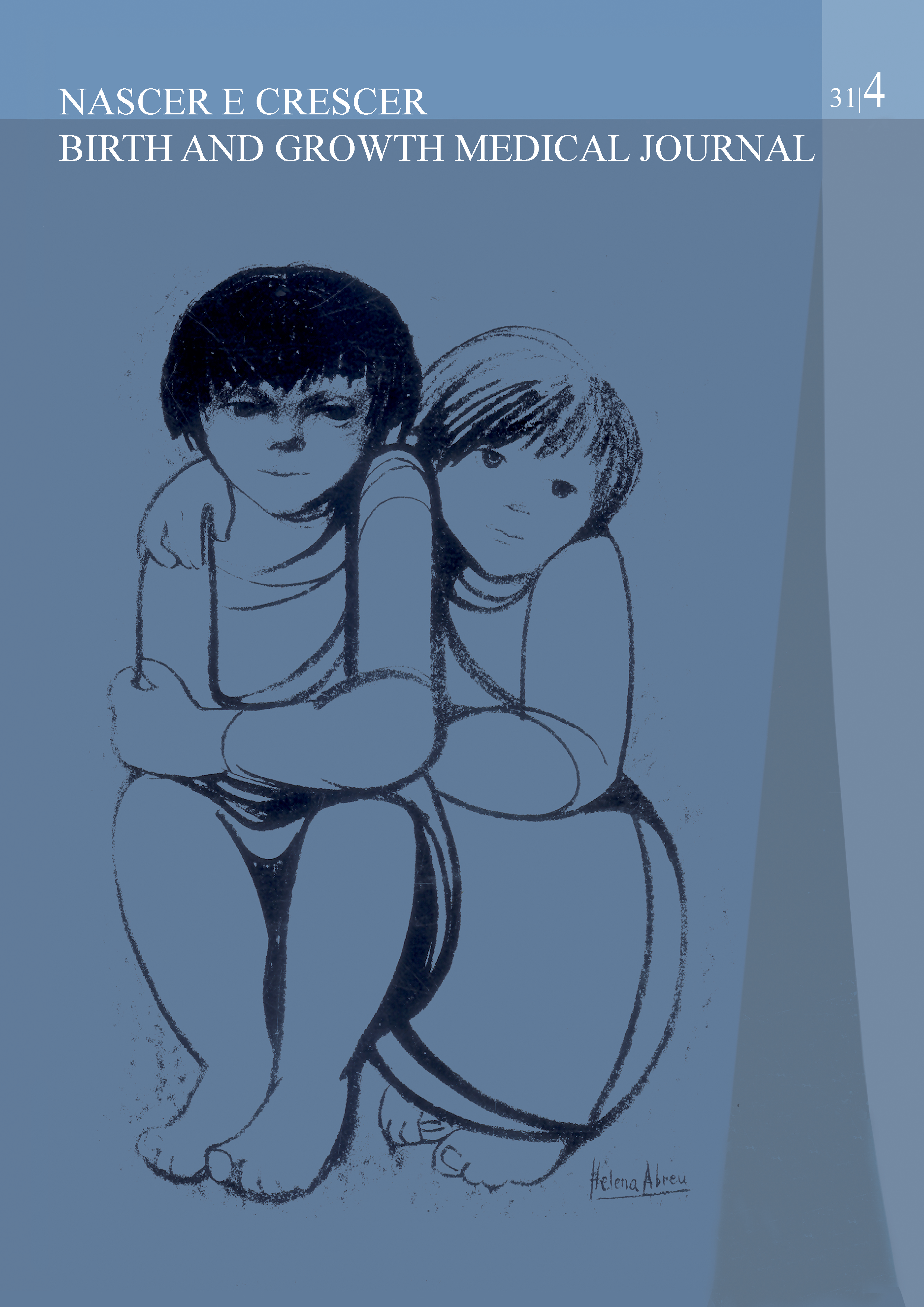 Downloads
How to Cite
1.
Rahal Chrisostomo K, Mitsunori Nisihara R, Vieira de Souza C, Rahal Chrisostomo E, Fujie J, Kulak Junior J. Vitamin D levels in pregnant women in southern Brazil during Summer and Winter. REVNEC [Internet]. 2022Dec.27 [cited 2023Mar.21];31(4):345-53. Available from: https://revistas.rcaap.pt/nascercrescer/article/view/24421
Section
Original Articles
License
Copyright (c) 2022 Kadija Rahal Chrisostomo, Renato Mitsunori Nisihara, Caroline Vieira de Souza, Eduardo Rahal Chrisostomo, Jessica Fujie, Jaime Kulak Junior
This work is licensed under a Creative Commons Attribution-NonCommercial 4.0 International License.
Copyright and access
This journal offers immediate free access to its content, following the principle that providing free scientific knowledge to the public provides greater global democratization of knowledge.
The works are licensed under a Creative Commons Attribution Non-commercial 4.0 International license.
Nascer e Crescer – Birth and Growth Medical Journal do not charge any submission or processing fee to the articles submitted.