Pediatric COVID-19 ─ What kind of disease is it?
Keywords:
COVID-19, homecare, pediatric age
Abstract
Background: The burden of COVID-19 is reported to be less significant in pediatric patients, with lower morbidity and mortality. Our center secured daily telephone follow-up for pediatric COVID-19 outpatients during the isolation period of the pandemic. The aim of this study was to describe COVID-19 manifestations in the pediatric population.
Methods: This was a retrospective cohort study of pediatric COVID-19 patients conducted between March 2020 and September 2021. Pediatric patients with positive SARS-CoV-2 nucleic acid amplification test performed in Emergency Department, hospitalization, or pre-surgery setting in our center, and patients followed in regular appointments in our center with positive SARS-CoV-2 test performed elsewhere were included. Cases of multisystem inflammatory syndrome in children were excluded. Demographic data, medical history, and data regarding disease course and severity were collected.
Results: Two hundred and forty-two patients were included, with a median (range) age of 48 (10-144) months. Approximately one third of patients (36.0%) had at least one chronic condition, and 142 had had a prior contact with an infected relative. At diagnosis, the large majority of patients (83.9%) were symptomatic, with fever, cough, rhinorrhea, and nasal congestion as main complaints. A total of 19.8% of patients were initially hospitalized. Among the 194 patients discharged, 22 required reassessment, eight of whom needed hospitalization. Most of these (91.7%) had mild disease or were asymptomatic, while 5.8% fulfilled criteria for moderate disease and 2.5% for severe disease. Two patients required admission to the Intensive Care Unit, one of whom died.
Conclusions: In this pediatric cohort, COVID-19 presented mostly as a mild disease, with non-specific and multiple symptoms. The close follow-up conducted at our center enabled a better understanding of the disease and minimizing unnecessary emergency visits and hospitalizations, while maintaining adequate patient follow-up.
Downloads
Download data is not yet available.
References
World Health Organization - WHO timeline – available at https://www.who.int/news/item/27-04-2020-who-timeline---covid-19.
World o Meter – Coronavirus in Portugal – available at https://www.worldometers.info/coronavirus/country/portugal/.
UNICEF data hub – COVID-19 and children – available at https://data.unicef.org/covid-19-and-children/.
Dawood FS, Porucznik CA, Veguilla V, Stanford JB, Duque J, Rolfes MA, et al. Incidence rates, household infection risk, and clinical characteristics of SARS-CoV-2 infection among children and adults in Utah and New York City, New York. JAMA Pediatr. 2022;176(1):59–67. https://doi.org/10.1001/jamapediatrics.2021.4217.
World o Meter – Coronavirus Cases in World – available at https://www.worldometers.info/coronavirus/.
Leidman E, Duca LM, Omura JD, Proia K, Stephens JW, Sauber-Schatz EK. COVID-19 Trends Among Persons Aged 0-24 Years – United States, March 1-December 12, 2020. MMWR Morb Mortal Wkly Rep 2021;70:88-94.
https://doi.org/10.15585/mmwr.mm7003e1.
Li X, Xu W, Dozier M, He Y, Kirolos A, Lang Z, Song P, Theodoratou E; UNCOVER. The role of children in the transmission of SARS-CoV2: updated rapid review. J Glob Health. 2020;10(2):021101. https://doi.org/10.7189/jogh.10.021101.
Patel NA. Pediatric COVID-19: Systematic review of the literature. Am J Otolaryngol. 2020;41(5):102573. https://doi.org/10.1016/j.amjoto.2020.102573.
Chang TH, Wu JL, Chang LY. Clinical characteristics and diagnostic challenges of pediatric COVID-19: A systematic review and meta-analysis. J Formos Med Assoc. 2020;119(5):982-989. https://doi.org/10.1016/j.jfma.2020.04.007.
Kim L, Whitaker M, O'Halloran A, Kambhampati A, Chai SJ, Reingold A, et al. Hospitalization rates and characteristics of children aged <18 years hospitalized with laboratory-confirmed COVID-19 - COVID-NET, 14 States, March 1-July 25, 2020. MMWR Morb Mortal Wkly Rep. 2020;69(32):1081-1088. https://doi.org/10.15585/mmwr.mm6932e3.
Stokes EK, Zambrano LD, Anderson KN, Marder EP, Raz KM, El Burai Felix S, et al. Coronavirus Disease 2019 Case Surveillance - United States, January 22-May 30, 2020. MMWR Morb Mortal Wkly Rep. 2020;69(24):759-765. https://doi.org/10.15585/mmwr.mm6924e2.
Bellino S, Punzo O, Rota MC, Manso M, Urdiales AM, Andrianou X, et al. Disease Severity Risk Factors for Pediatric Patients in Italy. Pediatrics. 2020;146(4):e2020009399. https://doi.org/10.1542/peds.2020-009399.
Graff K, Smith C, Silveira L, Jung S, Curran-Hays S, Jarjour j, et al. Risk Factors for Severe COVID-19 in Children. Pediatr Infect Dis J. 2021;40(4):e137-e145. https://doi.org/10.1097/INF.0000000000003043.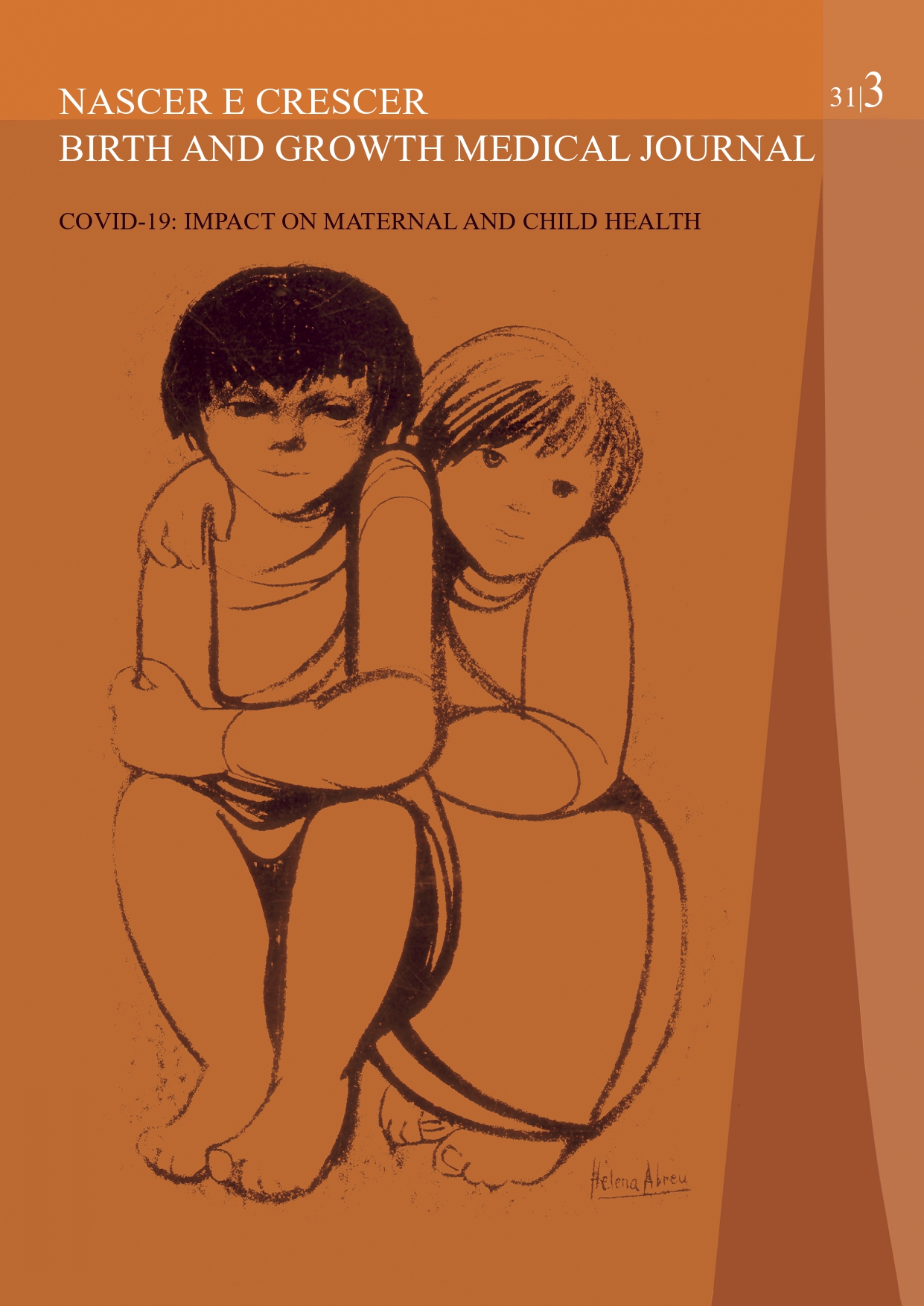 Downloads
How to Cite
1.
Salazar L, Curto C, Lima J, Correia C, Teixeira C, Fernandes A, Marques L, Caldas-Afonso A. Pediatric COVID-19 ─ What kind of disease is it?. REVNEC [Internet]. 2022Oct.19 [cited 2023Sep.30];31(3):220-5. Available from: https://revistas.rcaap.pt/nascercrescer/article/view/27984
Section
Original Articles
License
Copyright (c) 2022 Luis Salazar, Carolina Curto, Joana Lima, Cláudia Correia, Carla Teixeira, Alexandre Fernandes, Laura Marques, Alberto Caldas-Afonso
This work is licensed under a Creative Commons Attribution-NonCommercial 4.0 International License.
Copyright and access
This journal offers immediate free access to its content, following the principle that providing free scientific knowledge to the public provides greater global democratization of knowledge.
The works are licensed under a Creative Commons Attribution Non-commercial 4.0 International license.
Nascer e Crescer – Birth and Growth Medical Journal do not charge any submission or processing fee to the articles submitted.