Polycythemia vera: a case report
Keywords:
Adolescence, Polycythemia vera, Thrombosis, Thrombocytosis
Abstract
Polycythemia vera (PV) is a myeloproliferative disturbance of haematopoietic cells characterized by abnormal and overstated production of erythrocytes, leukocytes and platelets. Other disease features include splenomegaly, thrombohemorrhagic complications, vasomotor disturbances, pruritus and a small risk of disease progression into acute myeloid leukemia or myelofibrosis. Thrombosis is the presenting symptom in 20% of patients with PV. It is a rare disease with an incidence of 2.3/100.000 people per year, and is even more uncommon in children and adolescents. We present a case report of a fourteen-year-old years old adolescent with clinical and laboratorial findings suggestive of polycythemia vera. Treatment with alpha-interferon was initiated. Erythrocyte and platelet count are now in the normal range. The authors make, in the context of this case report, a brief review of the criteria for the differential diagnosis of reactive thrombocytosis and myeloproliferative diseases, manifestations and treatment options.
Downloads
Download data is not yet available.
References
Tefferi, A., Polycythemia vera and essential thrombocythemia: 2013 update on diagnosis, riskstratification, and management. Am. J. Hematol., 88: 507–16. doi: 10.1002/ajh.23417.
Vardiman JW, Thiele J, Arber DA, et al. The 2003 revision of the World Health Organization (WHO) classification of myeloid neoplasms and acute leukemia: Rationale and important changes. Blood 2009;114:937-51.
Cario H, McMullin MF, Pahl HL. Clinical and hematological presentation of children and adolescents with polycythemia vera. Ann Hematol. 2009;88:713-9.
Tefferi A, Vardiman JW. Classification and diagnosis of myeloproliferative neoplasms: The 2008 World Health Organization criteria and point-of-care diagnostic algorithms. Leukemia 2008;22:14-22.
McMullin MF. Idiopathic erythrocytosis: a disappearing entity. Hematology Am Soc Hematol Educ Program. 2009;1:629-35.
Percy MJ, Rumi E. Genetic origins and clinical phenotype of familial and acquired erythrocytosis and thrombocytosis. Am J Hematol. 2009;84:46-54.
Gordeuk VR, Stockton DW, Prchal JT. Congenital polycythemias/erythrocytoses. Haematologica. 2005; 90:109-16.
Osgood EE. Polycythemia vera: age relationship and survival. Blood. 1965; 26:243-56.
Wick H. Polycythaemia vera mit neurologischen Komplikationen bei einem 12jährigen Kind. Schweiz Med Wochenschr. 1969; 99:186-9.
Park MJ, Shimada A, Asada H, Koike K, Tsuchida M, Hayashi Y. JAK2 mutation in a boy with polycythemia vera, but not in other pediatric hematologic disorders. Leukemia. 2006; 20:1453-4.
Aggeler PM, Pollycove M, Hoag S, Donald WG, Lawrence JH. Polycythemia vera in childhood. Studies of iron kinetics with Fe59 and blood clotting factors. Blood. 1961; 17:345-50.
Berbis P, Devaux J, Benveniste MJ, Perrimond H, Privat Y. Severe erosive lichen planus and polycythemia vera in an adolescent. Dermatologica. 1987; 174:244-8.
Cap J. Polycythemia vera in an 11-year-old child. Bone marrow depression after daraprim treatment. Cesk Pediatr. 1961; 16:49-53.
Rives S, Pahl HL, Florensa L, et al. Molecular genetic analyses in familial and sporadic congenital primary erythrocytosis. Haematologica. 2007;92:674-7.
Marchioli R, Finazzi G, Specchia G, et al. Cardiovascular events and intensity of treatment in polycythemia vera. New Engl J Med 2013;368:22-33.
Ang SO, Chen H, Gordeuk VR, et al. Endemic polycythemia in Russia: mutation in the VHL gene. Blood Cells Mol Dis. 2002;28:57-62.
Perrotta S, Nobili B, Ferraro M, et al. Von Hippel-Lindaudependent polycythemia is endemic on the island of Ischia: identification of a novel cluster. Blood. 2006;107:514-9.
Cario H, Schwarz K, Jorch N, et al. Mutations in the von Hippel-Lindau (VHL) tumor suppressor gene and VHLhaplotype analysis in patients with presumable congenital erythrocytosis. Haematologica. 2005;90:19-24.
van Wijk R, Sutherland S, Van Wesel AC, et al. Erythrocytosis associated with a novel missense mutation in the HIF2A gene. Haematologica. 2010;95:829-32.
Percy MJ, Furlow PW, Lucas GS, et al. A gain-of-function mutation in the HIF2A gene in familial erythrocytosis. N Engl J Med. 2008;358:162-8.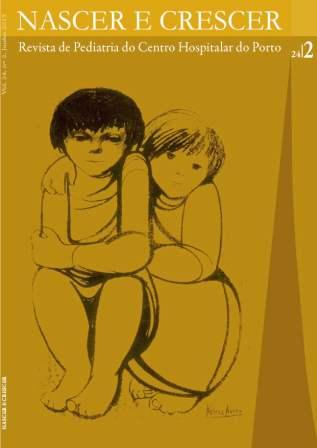 Downloads
How to Cite
1.
Macedo J, Costa E, Barbot J, Neto C. Polycythemia vera: a case report. REVNEC [Internet]. 2015Jun.15 [cited 2022Sep.25];24(2):83-7. Available from: https://revistas.rcaap.pt/nascercrescer/article/view/8565
License
Copyright and access
This journal offers immediate free access to its content, following the principle that providing free scientific knowledge to the public provides greater global democratization of knowledge.
The works are licensed under a Creative Commons Attribution Non-commercial 4.0 International license.
Nascer e Crescer – Birth and Growth Medical Journal do not charge any submission or processing fee to the articles submitted.