"In theory, doctrine diverges". A dialogue between the notion of doctrine and theory, from the Critical Theory of Race
Keywords:
doctrine, theory, critical race theory
Abstract
This essay puts in dialogue two distinct disciplinary terminologies, doctrine and theory, searching for an interdisciplinary approach capable of offering contributions to different disciplines, mainly to Law and Socio-anthropological Sciences. To this end, Critical Race Theory will be used as a case study.
References
ALMEIDA, Sílvio. Racismo Estrutural. São Paulo: Pólen, 2019. ISBN 978-85-98349-75-6.
BONILLA-SILVA, Eduardo. Rethinking racism: Toward a structural interpretation. American sociological review, 1997, 465-480.
BONI, Valdete; QUARESMA, Sílvia Jurema. Aprendendo a entrevistar: como fazer entrevistas em Ciências Sociais. Em tese, 2005, 2.1: 68-80. ISSN 1982-0739.
BUNGE, Mario. Epistemologia: curso de atualização. Tradução de Cláudio Navarra. 2a ed. São Paulo, Editora da Universidade de São Paulo, 1980, p. 162. ISBN 9788585008642.
CHINN, Peggy L./JACOBS, Maeona K. Theory and nursing: a systematic approach. Saint Louis, Mosby, 1983. ISBN 0801679478.
CHRISTIAN, Michelle. A global critical race and racism framework: Racial entanglements and deep and malleable whiteness. Sociology of Race and Ethnicity, 2019, 5.2: 169-185.
COSTA, Mário Júlio de Almeida. História do Direito Português. Coimbra, Almedina, 2018. ISBN: 978-972-40-4665-5.
DE AZEVEDO, Celia Maria Marinho. Onda negra, medo branco: o negro no imaginário das elites--século XIX. Paz e Terra, 1987. ISBN 8574194840.
ENGE, Ricardo José. O papel da doutrina jurídica: um enfoque teórico sob ponto de vista da política jurídica. Novos Estudos Jurídicos, 2001, 6.12: 85-94. ISSN: 2175-0491.
FACULDADE DE DIREITO DA UNIVERSIDADE DO PORTO. Introdução ao Direito, s.d., disponível em <https://repositorio-aberto.up.pt/bitstream/10216/83586/2/128407.pdf>. (consultado em 18 de janeiro 2022).
FEIST, Jess; FEIST, Gregory F.; ROBERTS, Tomi-Ann. Theories of Personality. Nova Iorque, McGraw-Hill International Editions, 2018, pp.4-6. ISBN 9780077861926.
FERREIRA, Gianmarco Loures; QUEIROZ, Marcos Vinícius Lustosa. A trajetória da Teoria Crítica da Raça: história, conceitos e reflexões para pensar o Brasil. Teoria Jurídica Contemporânea, 2018, 3.1: 201-229, p. 206. ISSN 2526-0464.
FERREIRA DIAS, João. Chuta que é macumba": o percurso histórico-legal da perseguição às religiões afro-brasileiras, Sankofa. Revista de História da África e de Estudos da Diáspora Africana, 2019, 22: 39-62.
FOUCAULT, M. A Arqueologia do Saber. Coimbra, Edições Almedina, 2005. ISBN 972-40-1694-3.
JOHNSON, Allan. G. Dicionário de sociologia: Guia prático da linguagem sociológica. Rio de Janeiro, Zahar, 1997. ISBN 9788571103931.
JUSTO, A. Santos. Introdução ao estudo do direito. Coimbra, Coimbra Editora, 2019.
KANT, Immanuel. Crítica da Razão Pura. Lisboa, Fundação Calouste Gulbenkian, 2001. ISBN 972-31-0623-X.
KAUFMANN, Arthur. Filosofia do direito, teoria do direito e dogmática jurídica. KAUFFMAN, A. & HASSEMER, W. Introdução à Filosofia do Direito e à Teoria do Direito Contemporâneas. Lisboa, Fundação Calouste Gulbenkian, 2002, 25-53, ISBN: 972-31-0952-2
KELSEN, Hans. Teoria pura do Direito. Coimbra, Almedina, 2019. ISBN 9789724078281.
KERLINGER, Fred N. Foundations of Behavioural Research: Educational, Psychological and Sociological. Nova Iorque, Holt, Rinehart and Winston, 1973. ISBN 0039107132.
KUHN, Thomas. A estrutura das revoluções científicas. São Paulo, Perspectiva, 1998. ISBN 85-273-0111-3.
MARTINS, Heloisa Helena T. de Souza. Metodologia qualitativa de pesquisa. Educação e pesquisa, 2004, 30: 289-300. ISSN 1678-4634.
MATORY, James Lorand. The fetish revisited: Marx, Freud, and the gods Black people make. Duke University Press, 2018, ISBN 9781478001058.
GROULX, Lionel-H. Contribuição da pesquisa qualitativa à pesquisa social. POUPART, J. et al. A pesquisa qualitativa: enfoques epistemológicos e metodológicos. Petrópolis: Vozes, 2008, 95-124.
NADER, Paulo. Introdução ao Estudo do Direito, 36.ª edição, revista e atualizada. Rio de Janeiro, Editora Forense, 2014, s.p. ISBN 978-85-309-5381-2.
NEVES, António Castanheira. Teoria do direito. Coimbra, Universidade de Coimbra, 1998.
PRATA, Ana. Dicionário jurídico, Livro 1: Direito Civil, Direito Processual Civil, Organização Judiciária. Almedina, Coimbra, 2020, p. 562. ISBN: 9789724033938.
PEIRANO, Mariza. A favor da etnografia. Rio de Janeiro, Relume-Dumará, 1995. ISBN 9788573160420.
POPPER, Karl. Conjecturas e refutações. Brasília, Ed. UNB, 1982. ISBN 978-8523012328.
POPPER, K. Em busca de um mundo melhor. Lisboa: Fragmentos, 1989. ISBN 972-664-049-0.
POSNER, R. Fronteiras da Teoria do Direito. São Paulo, WMF-Martins Fontes, 2011, ISBN 9788578273200.
SAMPAIO, Nélson de Sousa. A "doutrina" - fonte material e formal do direito. Revista de informação legislativa, 1982, 19.75: 67-82. ISSN 2596-0466.
WIGGERSHAUS, Rolf. The Frankfurt School: Its history, theories, and political significance. MIT Press, 1994. ISBN 0262731134.
ZUBERI, Tukufu. Teoria crítica da raça e da sociedade nos Estados Unidos. Cadernos do CEAS: Revista crítica de humanidades, 2016, 238: 464-487. ISSN 2447-861X.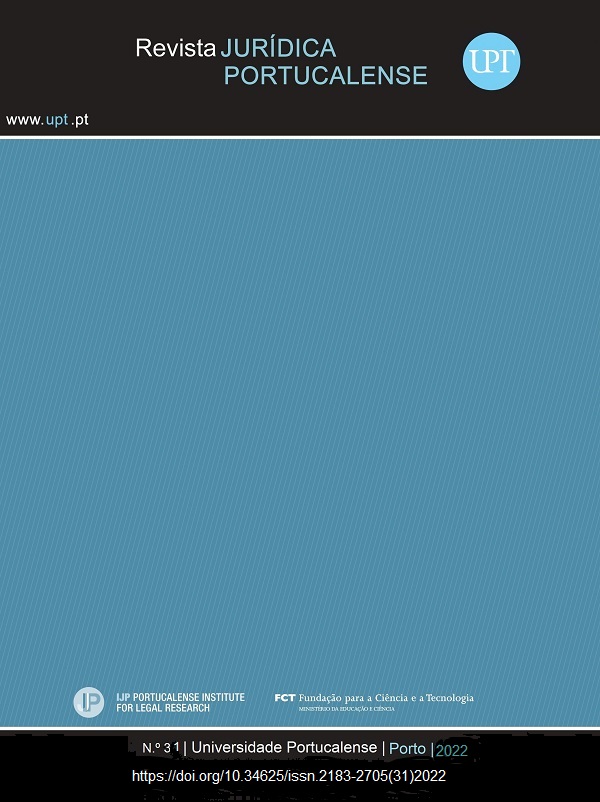 Downloads
How to Cite
FERREIRA DIAS, J. (2022). "In theory, doctrine diverges". A dialogue between the notion of doctrine and theory, from the Critical Theory of Race. Revista Jurídica Portucalense, 139–160. Retrieved from https://revistas.rcaap.pt/juridica/article/view/26158
Section
Scientific Research
License
Authors who published in the journal agree to the following terms:
The Authors retain copyright and grant the Journal right of first publication with the work simultaneously licensed under the Creative Commons Attribution License which allows the sharing of work with recognition of its initial publication in this journal.
Authors are able to take on additional contracts separately, non-exclusive distribution of the version of the paper published in this journal (ex .: publish in an institutional repository or as a chapter in a book), with an acknowledgement of its initial publication in this journal.
Authors are permitted and encouraged to post and distribute their work online (eg .: in institutional repositories or on their website) at any point before or during the submission process, as it can lead to productive exchanges, as well as increase the impact and the citation of published work (See The Effect of Open Access).

 
RJP does not apply submission, publication or any other fees of any nature. Its articles are open access, with the goal of disseminating scientific knowledge and the debate of legal topics in the area of ​​Legal Sciences.