Psychometric properties of the of the University Sport Experiences Scale — Portuguese
Keywords:
positive development, measurement, student-athletes, validity
Abstract
Over the last decades, qualitative methods have dominated Positive Development through sports research. Therefore, valid and reliable quantitative measurement tools are scarce. Additionally, most Positive Development research has focused on youth sport contexts. University sport has been considered a crucial period for a Positive Development approach, and researchers have created the University Sport Experience Survey, which assesses Positive Development in university sport. Although the psychometric properties of USES were confirmed, its validity may be confined to Canadian settings. This study aimed to investigate a cross-cultural adaptation of the University Sport Experiences Survey for a Portuguese-speaking population of university athletes. Our results suggest this confirmed model, containing Portuguese translated items, has strong factorial validity for assessing developmental outcomes of university-aged student-athletes in Brazilian university contexts. Current results support the external validity of University Sport Experiences Survey and offer evidence of the first validated Portuguese assessment tool for assessing Positive Development in university sport.
 Keywords: positive development; measurement; student-athletes; validity.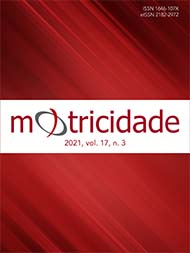 Downloads
License
The authors of submitted manuscripts must transfer the full copyright to Journal Motricidade / Desafio Singular Editions. Granting copyright permission allows the publication and dissemination of the article in printed or electronic formats and copyrights start at the moment the manuscript is accepted for publication. It also allows Journal Motricidade to use and commercialize the article in terms of licensing, lending or selling its content to indexation/abstracts databases and other entities.
According to the terms of the Creative Commons licence, authors may reproduce a reasonable number of copies for personal or professional purpose but without any economic gains. SHERPA/RoMEO allows authors to post a final digital copy (post-printing version) of the article in their websites or on their institutions' scientific repository.