Culture, Policies, and a Move to Integrate an Assets-based Approach to Development in the Portuguese Sport System
Keywords:
sport, policy, youth, values, winning
Abstract
The purpose of this article is to propose the integration of an assets-based approach to development in the Portuguese sport system. The propositions advanced are aimed at instigating reflections on policy-level initiatives that can be undertaken with the intent of bettering the state of sport in Portugal. We argue that changes from an assets-based approach are needed in both policy and practice to influence the current Portuguese sport culture positively. Specifically, an assets-based approach could prompt a move towards deliverables aimed at promoting social development rather than a unidimensional focus on winning and performance. Based on the current state of affairs, reflections for rethinking the culture and policies of the Portuguese sport system are offered.
Keywords: sport; policy; youth; values; winning.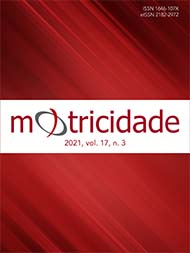 Downloads
License
The authors of submitted manuscripts must transfer the full copyright to Journal Motricidade / Desafio Singular Editions. Granting copyright permission allows the publication and dissemination of the article in printed or electronic formats and copyrights start at the moment the manuscript is accepted for publication. It also allows Journal Motricidade to use and commercialize the article in terms of licensing, lending or selling its content to indexation/abstracts databases and other entities.
According to the terms of the Creative Commons licence, authors may reproduce a reasonable number of copies for personal or professional purpose but without any economic gains. SHERPA/RoMEO allows authors to post a final digital copy (post-printing version) of the article in their websites or on their institutions' scientific repository.