The Influence of the Pilates Method on the Quality of Life of its Practitioners: A Systematic Review
Keywords:
Pilates method, quality of life, functional capacity, pain, mental health
Abstract
Created in Germany by Joseph Pilates in the 1920s, the Pilates Method (PM) uses exercises aiming to improve physical health and mental balance. The present work objective was to verify, through a systematic literature review without delineating languages and dates, the influence of PM on the quality of life (QoL) of its practitioners. Medline, Embase, Web of Science, Scopus, and Google Scholar databases were consulted. The articles were independently selected by two researchers, who also conducted the risk of bias assessment of the included articles. Were identified 2489 articles on the databases, of which 30 were included in the study synthesis. The practice of PM improves the QoL of its practitioners, providing enhanced functional capacity, pain relief, and improvement of emotional aspects in individuals of both sexes, different age groups, and different clinical contexts.
Systematic Review Record: PROSPERO CRD42021273295
Keywords: Pilates method, quality of life, functional capacity, pain, mental health.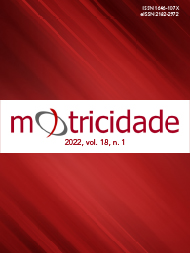 Downloads
Additional Files
License
The authors of submitted manuscripts must transfer the full copyright to Journal Motricidade / Desafio Singular Editions. Granting copyright permission allows the publication and dissemination of the article in printed or electronic formats and copyrights start at the moment the manuscript is accepted for publication. It also allows Journal Motricidade to use and commercialize the article in terms of licensing, lending or selling its content to indexation/abstracts databases and other entities.
According to the terms of the Creative Commons licence, authors may reproduce a reasonable number of copies for personal or professional purpose but without any economic gains. SHERPA/RoMEO allows authors to post a final digital copy (post-printing version) of the article in their websites or on their institutions' scientific repository.