Validation and development of an observational system for the kinesics communication of the fitness instructor
Abstract
The aim of this study was to develop and validate an observational system for the kinesics communication of the fitness instructor, as well as conduct a pilot study. The development and validation process of the observation system was done in five sequential phases. At the end of this process, it was obtained the validity and reliability of 5 coding dimensions and 21 categories of instructor kinesics behavior, creating the final version of the observational system. Thereafter, the observational system was used in a pilot study conducted in a sample of 12 fitness instructors from four different group exercise classes. Data suggested that instructor´s kinesics behavior could be feasibly coded with the observational system. It was conducted a comparison of his interventions across several activities, although with a small sample size.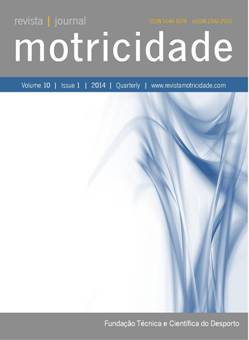 Downloads
License
The authors of submitted manuscripts must transfer the full copyright to Journal Motricidade / Desafio Singular Editions. Granting copyright permission allows the publication and dissemination of the article in printed or electronic formats and copyrights start at the moment the manuscript is accepted for publication. It also allows Journal Motricidade to use and commercialize the article in terms of licensing, lending or selling its content to indexation/abstracts databases and other entities.
According to the terms of the Creative Commons licence, authors may reproduce a reasonable number of copies for personal or professional purpose but without any economic gains. SHERPA/RoMEO allows authors to post a final digital copy (post-printing version) of the article in their websites or on their institutions' scientific repository.