Association among strength, sarcopenia and sarcopenic obesity with functional performance in older women
Abstract
Both sarcopenia and sarcopenic obesity (SO) are geriatric conditions well known to be associated with negative outcomes in the elderly. However, its association with functional capacity needs to be further investigated. The purpose of the study was to verify the association among muscle strength, sarcopenia and SO with functional performance in older women. 137 women (67.76±5.67 years; 64.63±10.79 kg; 154.13±0.06 cm) underwent body composition evaluation through DXA. Functional performance was evaluated by tests as chair stand, Timed Up & Go, Arm Curl, and 6-Minute Walk. Muscle strength was evaluated with isokinetic dynamometry and hand grip strength. The prevalence of sarcopenia and SO were 13.9% and 23.4%, respectively. None of the functional variables differed according to sarcopenia classifications. Although volunteers classified as SO presented higher body fat percentage and lower fat-free mass, there was no difference compared to the functional tests. Conversely, both muscle strength measurements (i.e., knee extensors isokinetic and hand grip) were significantly associated to the functional tests. In summary, there was no association between the evaluated classifications of sarcopenia and SO with functional capacity. Nevertheless, muscle strength presented a significant and positive relationship with the functional tests in older women.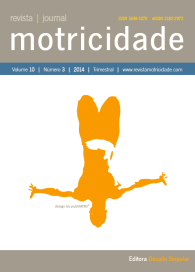 Downloads
License
The authors of submitted manuscripts must transfer the full copyright to Journal Motricidade / Desafio Singular Editions. Granting copyright permission allows the publication and dissemination of the article in printed or electronic formats and copyrights start at the moment the manuscript is accepted for publication. It also allows Journal Motricidade to use and commercialize the article in terms of licensing, lending or selling its content to indexation/abstracts databases and other entities.
According to the terms of the Creative Commons licence, authors may reproduce a reasonable number of copies for personal or professional purpose but without any economic gains. SHERPA/RoMEO allows authors to post a final digital copy (post-printing version) of the article in their websites or on their institutions' scientific repository.